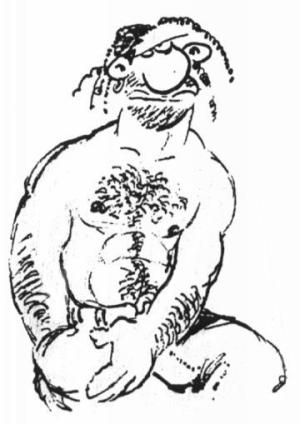 Ralf König (born 8 August 1960 in Westönnen (today part of Werl/Westfalen, Germany) is one of the best known and most commercially successful German comic artists.
Biography
After attending the German Hauptschule, König completed his apprenticeship as a joiner.
In 1979 he experienced his coming out as a gay man. From 1981–1986, he studied at the public Kunstakademie Düsseldorf with a major in free art. At the same time, he started to publish his comics. His first comic carried the title Schwul-Comix I (Gay-Comix I) and was publiched by the Verlag Rosa Winkel in Berlin.
After living in Soest, Dortmund and Berlin, he lives today in Cologne.
[edit] Work
In his works, König deals mostly with the everyday lives of gays in Germany and other gay themes. He draws in a cartoonish style.
At the beginning of his career he started to write short stories of only a few pages. In 1987 he wrote his first comic with a continuous story (Kondom des Grauens).
His stories are normally written with humor, but some deal with serious themes, for example the tension between having spontaneous sex and the risk of infection of AIDS. Most frequently, he deals with the gay daily routine, which is often based on his own personal experience. Many of his stories also contain an explicit depiction of gay sexual practices.
Ralf König's works are mainly read by homosexuals, however some of his books (Der bewegte Mann, Wie die Karnickel) are very popular with heterosexual readers as well.
König's comics are translated into many different languages.