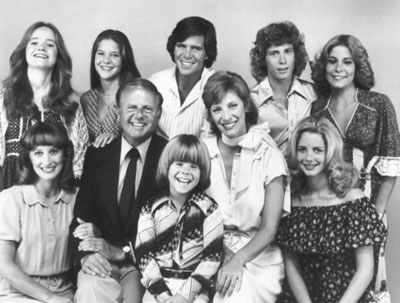 Eight Is Enough was an American television "dramedy" series which ran on ABC from March 15, 1977 until August 29, 1981. The show was modeled after syndicated newspaper columnist Tom Braden, a real-life father with eight children, who wrote a book with the same name. The series was rare in that it was one of the few hour-long television series to use a laugh track.
It centered around a Sacramento, California family with eight children (from oldest to youngest: David, Mary, Joanie, Susan, Nancy, Elizabeth, Tommy, and Nicholas). The father Tom Bradford (Dick Van Patten) was a newspaper columnist for the fictional Sacramento Register. His wife Joan (Diana Hyland) took care of the children. Hyland was only in four episodes before falling ill; she was written out for the remainder of the first season. Hyland died only 12 days after the first episode aired, and the second season began in the fall of 1977 with the revelation that Tom had become a widower.
Tom fell in love with Sandra Sue "Abby" Abbott (played by Betty Buckley), a schoolteacher who came to the house to tutor one of his children. They were married in one of Eight Is Enough's special TV-movie broadcasts in November 1977. These two-hour television events usually occurred during sweeps periods and routinely grabbed viewing figures as high as a forty television share.
In another TV-movie event in September 1979, two of the children (David and Susan) were married off in a special double wedding extravaganza. As the show went on, Abby got her Ph.D. in education and started a job counseling students at the local high school.
After the end of the show's fifth season, production costs and declining ratings caused the show to be canceled, along with seven other shows that season (Eight Is Enough seemed to grab the most headlines, as the press had a field day with ABC's choice to bring "eight shows in" and kick "eight shows out."). Reunion movies were broadcast in 1987 and 1989.
The series jumpstarted acting careers for a select few of the "eight" and cemented teen idol status for Grant Goodeve, who played David, Willie Aames, who played Tommy, and Ralph Macchio, who played cousin Jeremy later in the series. Aames would go on to star with Scott Baio in Charles in Charge. Goodeve started a minor singing career, due to his rendition of the theme "Eight Is Enough to Fill Our Lives With Love." Macchio would gain the most fame in feature films such as The Karate Kid and its sequels, as well as My Cousin Vinny.
Cast list
The ages of the children are given alongside their character names; these are their ages in the first episode in 1977.
Mark Hamill was originally cast as David Bradford. Hamill, having just completed Star Wars, felt that the movie was going to be a hit and wanted to focus on his film career. He did play David in the pilot, but Grant Goodeve played the character for the rest of the show's run.
[edit] Core cast members
* Dick Van Patten - Tom Bradford
* Diana Hyland - Joan Bradford (Season 1)
* Betty Buckley - Sandra Sue "Abby" Abbott Bradford (Seasons 2-5)
* Mark Hamill - David Bradford (23) (pilot only)
* Grant Goodeve - David Bradford (23) (Seasons 1-5)
* Lani O'Grady - Mary Bradford (21)
* Laurie Walters - Joanie Bradford (20)
* Susan Richardson - Susan Bradford Stockwell (19)
* Dianne Kay - Nancy Bradford (18)
* Connie Needham - Elizabeth Bradford (15)
* Willie Aames - Tommy Bradford (14)
* Adam Rich - Nicholas Bradford (8)
[edit] Recurring cast members
* Brian Patrick Clarke - Merle "The Pearl" Stockwell (1979–1981)
* Jennifer Darling - Donna (1978–1981)
* Henderson Forsythe - Big Bud
* Michael Goodrow - Ernie Fields (1979–1981)
* James Karen - Eliot Randolph
* Ralph Macchio - Jeremy Andretti (1980–1981)