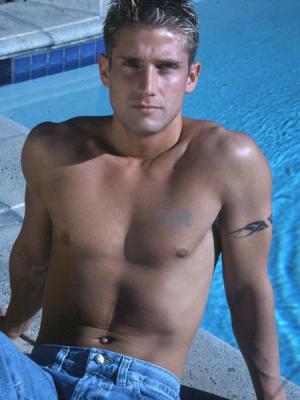 Joe Landon (real name Brian Benham) (born 26 June 1976 in Chicago, Illinois) is a gay porn star who makes pornographic movies, almost exclusively for Delta Video.
His first film, "My Friend Brian" was an amateur solo video shot, produced and sold by a schoolmate of his. It was available solely online. It was probably this scarce amateur video that launched his very successful career in professional adult gay films.
Landon became a quick 'hit' in the world of gay porn after the release of his first movie, Joe's Big Adventure, released in 1998 by Delta Video. He is known for his youth, muscular build, strong facial forms, and blond hair. However, he is perhaps most known for his 10 inch, slightly curved, circumcised penis. In all of his movies, Landon performs as the top in various sex acts.
Landon's qualities were not overlooked at the various award ceremonies for gay porn, and during the course of his short career (he made only five movies before 'retiring' from the porn business), he won several awards, including:
* 1999 Grabby Award for Best Actor: The Apprentice
* 2000 GayVN Video Awards Best Solo Performance: Joe's Big Adventure
* 2003 Grabby Award for Best Actor: The Apprentice 2: Dark Heart
After making four videos as an exclusive for Delta Video (including A Young Man's World directed by Kevin Clarke), he performed in one video for Flashpoint Studios. Landon has been in a relationship with fellow gay porn performer Dave Parker.