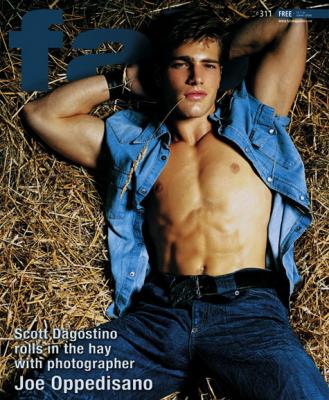 Joseph Sayers (b. October 15, 1983 in Lakewood, New York, United States) is a male fashion model best known for his nude centerfold for Abercrombie and Fitch Quarterly, shot by Bruce Weber, and also for the fact that, despite being only 5'6" tall (most male models are at least 5'11"), he has experienced great success as a fashion and commercial model.
Joseph has also fronted notable campaigns for Polo Underwear photographed by Richard Phibbs, DSquared photographed by Steven Klein, and Macy's. He was memorably photographed by Steven Klein wrestling with Lucas Kerr for French Vogue, in addition to editorials in Gentlemen's Options (shot by David Byun), Artistic Tile (Joseph Oppedisano), Men's Journal (Aaron Goodman), Numero (Alexei Hay), Instinct, CosmoGirl, XY and Blue magazines. He has also been photographed by Randall Mesdon and Tony Duran to round out a stellar list of photographers, and appeared in a TV commercial for ESPN, an in-store video for Redken, and a music video for the Pet Shop Boys.[1]
Sayers was originally discovered on the ModelLaunch website and was first scouted and signed by agent Adam Silver of Silver Model Management in New York City. Shortly afterward, Sayers also signed with agent Jason Kanner at Major Model Management for fashion modeling work.
Just prior to being discovered on ModelLaunch, Sayers posed nude and masturbated for a photo shoot several days after his 18th birthday, which were then distributed on the Internet by the photographer, Ed Flores. The rights to those photos have since been bought by Sayers in an attempt to stop further distribution.