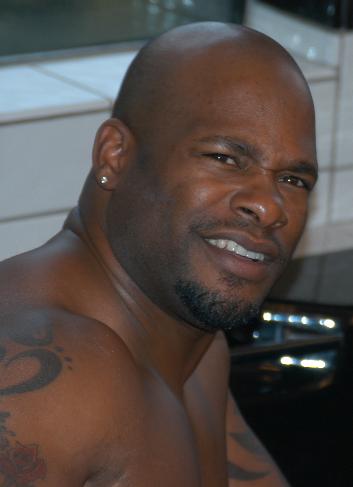 Mr. Marcus (born J. Spencer on September 4, 1970 in Pomona, California) is an American pornographic actor.
He also starred in Snoop Dogg's Doggystyle with Jade Marcela in an extremely long anal scene.
He was raised by his mother, a single parent, who currently works for the Government and has a master's degree in Applied Computer Application. His father was absent prior to his birth.
At 16 he started lifting weights. It is believed that at around that age he became interested in adult material. He worked as male exotic dancer, truck driver, and warehouse forklift driver between the ages of 18-23.
He was arrested in early 1993, the first of many. Upon his release, he took on the alias Marcus to avoid any more arrests and added the moniker Mr. once he got in porn.
He got his start in porn by simply getting the phone number (from the trade/newpaper L.A. X-Press) of the then prominent producer Randy Detroit. It was at the 1994 AVN Adult convention where he met director/producer Ron Hightower and female performer Heather Lee who on site recommended a career in adult.
He is known for wearing a lot of college baseball caps in his films.