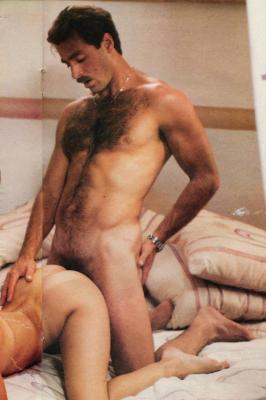 Steve Drake (born April 20th, 1954 as Steve Nadelman) is a male adult film star (pornstar) who has done over 800 movies since he first began in 1984. He is also a porn director.
[edit] Description
Here is what he is most often described as on the web (taken from excaliburfilms.com):
Porn Star Steve Drake is a tall, well-built stud who has been in and out of the hardcore industry since way back in 1984. He's a hard-working, always in-demand stud who has pretty much done it all in the business during his almost twenty years in the sultry spotlight. Often sporting a beard and moustache, Steve brings a bit of that 80s attitude and look to his roles. He's handsome in a rough and tumble way, with a very hairy body and a strikingly handsome face.
* He always has a moustache and sometimes has a beard
* He has a facial wart on his left cheek
* He has a tattoo on his right biceps (upper arm)
* He was married to from 1987 to 1991 to fellow pornstar Dina DeVille
* He has been in over 800 adult movies (826 so far to be correct)
* In 2000 he was elected to the XRCO Hall of Fame
* He pretty much always wears a mood ring on the 3rd finger of his right hand (the ring finger) even after his divorce in 1994, which would mean that he didn't just wear it because he was married. It may have been his wedding ring however, and he possibly simply just kept on wearing it.
* He loves riding his motorbike more than having sex
* He was in the Navy
* He had an apartment in Long Beach
* He owns several motorcycle shop in the states
* He is also a porn director
* He loves sailing and owns a yacht