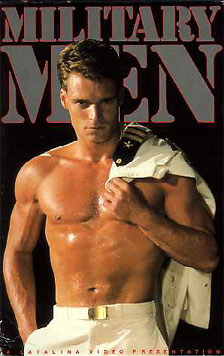 MANDATE: The Men of Matt Sterling (1998)
ADVOCATE MEN Oct 1987
HEAT Dec 1987, July 1988, Dec 1988
INCHES Jan 1987
JOCK May 1990, July 1987
MANDATE Aug 1987
PLAYGIRL Dec 1985
STALLION Sept 1987 (v06 n05)
TORSO Aug 1987
BOLT May 1988
STUDFLIX Aug 1987Jeff Quinn (born October 23, 1957) is an American porn star who appeared in several gay pornography films that are now considered among the best of classic (pre-condom) gay and bisexual pornographic films. He was active in the pornographic industry in the mid-1980s.
Quinn (under the name "Rhett Routley") was the "Man of the Month" centerfold for the December, 1985, issue of Playgirl.
[edit] Filmography
* Big Guns (Catalina Video, 1986) with Mike Henson, John Davenport, John Rocklin, Kevin Williams, Chad Douglas, Rocky Armano, Jeff Boote, Mike Ryan, Chris Gray, Kevin Wiles.
* Bigger Than Life (Matt Sterling Studio, 1986) with Tom Brock, Keith Ericson, Joe Gibbons, Mike Gray, Jim Pulver, Jeff Stryker, Kevin Wiles.
* Giant Splash Shots II (Falcon, 1985) with Chad Douglas, Dane Ford, Eric Manchester, Jamie Landon, Jim Bentley, John Rocklin, Lance , Leigh Erickson
* Hot Rods: Young & Hung II (Catalina Video, 1986) with Kevin Williams, Vinnie Marino, Mike Henson, Allan Fox, Jason Lowe, John Davenport, Rex, Eric Radford, J.T. Denver, Rocky Armano.
* Inch by Inch (Matt Sterling Studio, 1985) with Doug Jensen, Tom Brock, Jim Pulver, Steve Wright, Tony Stefano, Steve Henson, Mike Raymond (aka Brian Estevez), Toby Matson (aka Michael Vincent), Kevin Luken, Mark Miller, Christopher Lance, Bill Joseph.
* Innocence Lost (Catalina Video, 1987; reissued 2004) with Paul Carson (aka Eric Manchester), John Davenport, Mike Ryan, Stacey Donovan, Megan Givers.
* Military Men (Catalina Video, 1990) with John Rocklin, Mike Hensen, Chaz Holderman, Chris Williams, Brian Thompson, Cory Adams, Bill Henson, Rocky Armano, Tony Marino.
* The Switch Is On (Catalina Video, 1985, reissued 2003) with Jeff Stryker, Kevin Williams, Danielle, Allan Fox, Mike Miller, Breezy Lane, John Rocklin, Elle Rio, Megan Daniels, Dave Phillips, Steve Ross.
[edit] See also
Falcon Studios:
GIANT SPLASH SHOTS 2 (FVP-050)
TRY TO TAKE IT (FVP-051)
Catalina:
BIG GUNS Catalina
MILITARY MEN
HOT RODS: YOUNG & HUNG II
INNOCENCE LOST
THE SWITCH IS ON
SWITCH VIDEO 4
SWITCH VIDEO 5
SWITCH VIDEO 6
WILD YOUNG FUCKERS
YOUNG CUM PUMPERS
YOUNG MEN OF THE 80'S 4
Huge Video:
BIGGER THAN LIFE
INCH BY INCH
other studios:
THE TROY SAXON GALLERY 1
STROKE 15 - AC/DC HOOK-UP