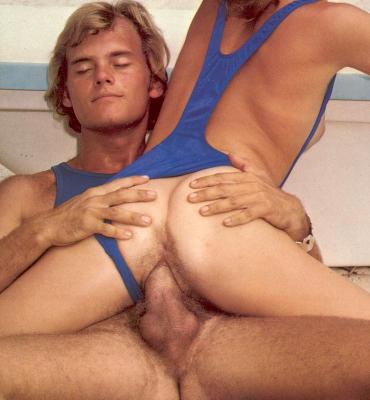 Jerry Butler (born May 13, 1959) is an American pornographic actor. He was one of the most popular male performers in the 1980s, making more than 500 films in his career.
Biography

[edit] Early life

Butler was born Paul Siederman in Brooklyn to a Jewish father and a mother of half German/Irish and half Cherokee Native American descent.[1] His paternal grandfather, Sam Siederman, was the half-brother of Russian Communist leader Leon Trotsky.[1] Butler was an aspiring ice hockey player during his childhood and adolescence and made it as far as minor league professional playing for the New Haven Nighthawks, a New York Rangers farm team. However, there is no mention of a Paul Siederman on hockeydb.com so his career with the Nighthawks is certainly disputed. Due to a barrage of serious injuries, Butler's ice hockey career was in serious doubt and it was at this time that he decided to set his sights on a different career.

[edit] Early career
Butler initially tried his luck at mainstream acting, performing in a variety of off-broadway plays such as the character Donald in David Mamet's play American Buffalo and as Hank Halloway in The Gay Dracula. He also had a few walk-ons on the long running soap One Life to Live (1978) as well as an uncredited appearance in Frank Henenlotter's famous horror classic Basket Case (1982).

He was generally unhappy with the constant pressure to sleep with men in exchange for parts and began to slowly grow tired of the wasted effort. Butler was even offered the part of Brad in One Life to Live (1978) if he would agree to sleep with the male casting director.

[edit] Adult film career

He first got into hardcore in 1981 after answering an ad in "Backstage Magazine" looking for hardcore actors. He went in to audition for a non-sex role and after a little persuading, ended up leaving with a hardcore sex role in the film Young, Wild and Wonderful (1981).

He decided to use the name Jerry Butler when he was on the way to pick up his first pay check and the Jerry Butler (singer) song "Only the Strong Survive" was playing on the radio. The lyrics meant a lot to him and he decided that stage name was for him. Due to the size and shape of his penis (thick at the base, and tapering toward the head), he was known behind the scenes as "The Wedge." Butler was touted as the most talented male actor in his day with exceptional turns in Chuck Vincent's bigger budget adult efforts Roommates (1981) and In Love (1983), the latter winning him Hustler's Best Actor Award.
During his adult film career, Butler made appearances in three more legitimate films, playing a comedic role in Preppies (1984), the dramatic lead in psychological thriller Deranged (1987) both directed by Chuck Vincent, and in the horror film Evils of the Night (1985) with Aldo Ray, John Carradine and Julie Newmar.

In 1987, Jerry Butler married former child star Lisa Loring who was best known for playing Wednesday Addams in The Addams Family (1964). They both met on the set of the adult film Traci's Big Trick (1987).

Butler released an autobiography called Raw Talent in the early 90's, giving an insider's account of the porn scene. He was very forthcoming in the book, giving very intimate details of some of his fellow co-workers in the business, and citing the existence of widespread drug abuse in the industry. This angered many with his colleagues. Butler and Loring divorced in 1992, which was also the year he began to drop out of the hardcore industry, and evidently by choice virtually disappeared for many years. Reports were that after leaving the porn industry, Butler was working as a bus driver.

Butler re-surfaced in 2003 to host but not act in a porn film entitled Sexy Sluts: Been There, Done That (2003), which was directed by famous underground rapper, Necro. Butler was also a featured guest on Necro's album The Sexorcist (2005).

aka Paul David Seiderman, Arthur West, Jerry Rillios