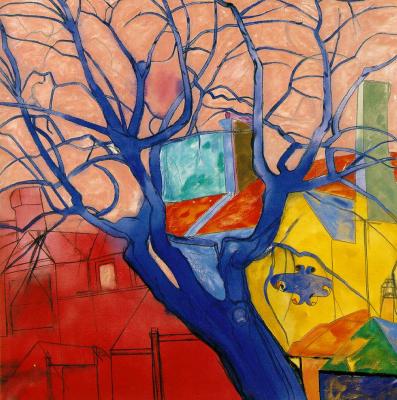 Ronald Brooks Kitaj (born October 29, 1932) is an American-born artist.
He was born in Cleveland, Ohio and studied at the Cooper Union Institute in New York City and, after a short stint in the United States Army, at The Ruskin (1958-59) and the Royal College of Art (1959-61) in London. He subsequently settled in England, and through the 1960s taught at the Ealing School of Art, the Camberwell School of Art and the Slade School of Art. He was elected to the Royal Academy in 1991.
Kitaj became a significant contributor to British pop art with his figurative paintings featuring areas of bright colour, economic use of line and overlapping planes which made them resemble collages. Allusions to political history, art, literature and Jewish identity often recur in his work. He also produced a number of screen-prints. His later works have been more personal.
As a draughtsman, Kitaj has few equals among modern artists. His intimate studies of the human form are exquisite and sensual, and psychologically penetrating. His more complex compositions build on his line work using a montage practice, which he called 'agitational usage'. Kitaj often depicts disorienting landscapes and impossible 3D constructions, with exaggerated and pliable human forms. He often assumes a detached outsider point of view, in conflict with dominant historical narratives. This is best portrayed by his masterpiece "The Autumn of Central Paris", 1972-73. In this painting the philosopher Walter Benjamin is portrayed, as both the orchestrator and victim of historical madness. The futility of historical progress creates a disjointed architecture that is maddening to deconstruct.
Kitaj was one of several artists to make a post-it note in celebration of 3M's 20th anniversary. When auctioned on the internet in 2000, the charcoal and pastel piece sold for $925, making it the most expensive post-it note in history, a fact recorded in the Guinness Book of World Records.