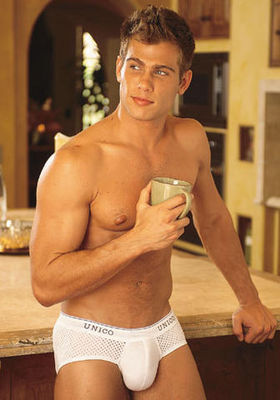 22 year old kevin peake was born and raised in ft. lauderdale, florida. half-french, half-american, he traveled europe extensively when he was young. in high school, he was part of his school's wrestling team.
a highly successful model, kevin was the runner-up at the international male modeling 2003 competition and a featured model on the all american guys website. he is also is a co-founder and the vice-president of amp: agency of modeling professionals.
kevin's first big prime time exposure came as a contestant on abc's "are you hot?", before becoming the embedded professional model on bravo's "manhunt: the search for america's most gorgeous male model" to act as a mole and spy on the real contestants. his 'secret' role was of little surprise to anyone who's seen the hunk in campaigns for abercrombie and fitch or showing off shirts and briefs on undergear.com.
though he may have too much muscle, as remarked by a manhunt judge who foolishly considered it to be a disadvantage, kevin's sexy smile and baby blue eyes will no doubt always win him plenty of adoring fans.