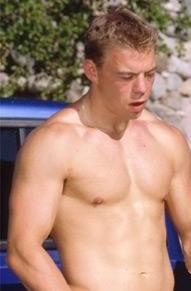 Erik Everhard (born December 2, 1976 in Calgary, Alberta, Canada) is a stage name for a Canadian pornographic actor. His birth name is Mitch Hartwell.
In 1998, he moved to Vancouver to attend university. At that time, he made his first forays into pornography. In 1999, with the financial support of a friend, he moved to Los Angeles to pursue a career in porn. Erik has performed in over 200 pornographic movies, most of them for Anabolic Video. His willingness to have analingus performed on him by porn actresses is noteworthy since numerous other straight male porn actors then followed suit, making Everhard a maverick of sorts.
In a 2002 interview, Everhard attributed his career choice not to financial gain but to sexual enjoyment, saying he regularly enjoys sex and masturbation off camera. [1]