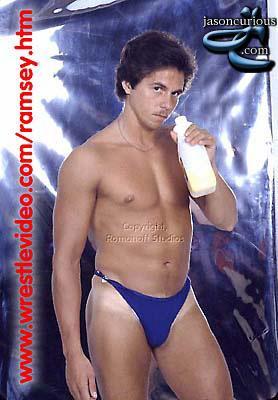 Peter North (also known as Al Brown, Matt Ramsey) is a bisexual Canadian pornographic actor, director and producer of the 1980s, 1990s, and 2000s. He is one of the most famous male performers in pornography.
North was born Alden Brown on May 11, 1957. He is originally from Halifax, Nova Scotia, Canada, and moved to California, United States, in 1982. Thousands of dollars in debt, Alden entered the porn business at age 24 to make money.
Birthdate: May 11, 1957 (age 49)
Birth location: Halifax, Nova Scotia, Canada
Birth name: Alden Brown
Penis size: 8.5 inches (21.5 cm)
Height: 5 ft 10 in (1.79 m)[1]
Weight: 205 lb (93 kg)[2]
Eye color: Brown
Hair color: Brown
Orientation: Bisexual
Ethnicity: White
Stage Name(s): Al Brown, Matt Ramsey
Biography
North shot to fame with his memorable facials. He is most noted for his ability to produce very large amounts of semen, and for his powerful cum shots. He has averaged 8-10 ejaculations per climax since the start of his career in the porn industry over two decades ago. Female co-stars like Jenna Jameson confirm his volume of ejaculation to be real, with no movie trickery involved.[4] Peter North has stated that his ejaculations have always been of a high volume and that he didn't know it was above the norm until he began his career in the porn industry. At the climax of sex scenes, North's ejaculations could last twenty seconds and upwards of a half minute.
North is circumcised, and is known for having an exceptionally large penis both in length and girth, as well as for consistently sporting remarkably turgid erections. Many porn starlets have attested to these facts, particularly Kaitlyn Ashley and Jewel DeNyle. The size of North's penis, reported to be 8.5 inches in length by 6 inches in girth, is amongst the largest of all current male porn stars, as claimed by female co-stars Kelly O'Dell, Harmony, and others.[citation needed] Hence, people in the industry refer to "The North Pole."
North has appeared in well over 1,000 pornographic movies, performing on camera with nearly every notable porn actress of the past twenty years. North also became involved in the government's 1986 investigation of Traci Lords' underage involvement in the industry in the mid-1980s. Lords was underage when she made most of her movies, including some sex scenes with North. The government eventually dropped the investigation. He has also directed more than 70 movies (notably, his North Pole and Anal Addicts series), and produced over 20 movies, including 15 in the North Pole series.
In 1996, North had a brief television stint as a chef/host on a short-lived, risque, Chinese cooking show titled "A Big Cock & A Wok" (translation) which was pulled from Chinese Television by the government after two episodes were aired in selected markets. Both of the previously taped seasons from 1996 and 1997, respectively, are still televised in Hong Kong where North is considered a sex symbol.[citation needed]
In 1994, Peter North released a guide to meeting and dating beautiful women called Penetrating Insights. Its purpose is to help the reader meet more women. The book also includes tips on everything from grooming to personal health.
North is a member of both the X-Rated Critics Organization (XRCO) and the Adult Video News (AVN) Hall of Fame.
[edit] Gay porn start
Early on in his career under the pseudonym Matt Ramsey, Peter made more than a dozen gay porn movies in which he 'bottomed' for some of the largest male talent in the porn industry (most notoriously 'Humoungous' Rick Donovan in the Bigger the Better). Despite seeming to enjoy himself in these performances, North has at times denied having done so, then admitted it (but stated - although it is clearly untrue - that an anal stunt double was used), and now simply refuses to discuss it.
* Like many porn stars, his screen name is descriptive and something of a pun. "Peter" is a common slang term for a penis. "North" refers to his Canadian roots, as in the "Great White North".
* "I did not have intercourse until I was eighteen, so I guess I would be considered a late bloomer. But I was always intrigued. I used to look at catalogues with the women's bra section." (Lukeford.com)
* "People think I'm sloppy...but I'm just aimin' for Mickey Mouse hat!" (AVS.com)
* "Some women have the idea that facial cum shots are degrading. They don't realize that it's a natural part of many relationships. There's a big demand out there for facial cumshots, and I don't think that the guys who watch it use it as something to humiliate women." (Lukeford.com)
* "My biggest gripe about the business is the women who complain about guys having dicks that are too big. You'd think that by being in the business they would always be wanting bigger cocks. I've never gotten that in my private life from any woman and I've been with some petite girls." (HEVG)
* "Never have oral sex with a woman when her private parts smell like a dumpster." (Penetrating Insights, Morris Publishing, 1994)
* "My nuts smell like cheese. That is why I've had success in the industry. Who doesn't like cheese?" (Living the Porn Life, Simon and Schuster, 2005)