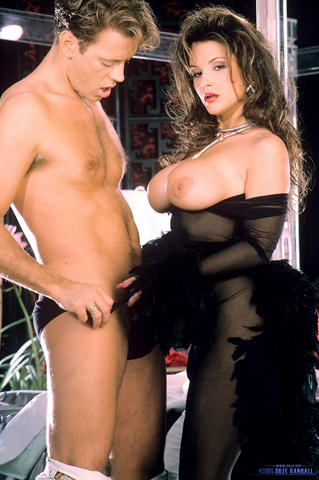 Rocco Siffredi, byname of Rocco Tano (born May 4, 1964 in Ortona, Abruzzo, Italy) is a pornographic actor, now working as a director and producer of pornographic movies. As of 2005, he has starred in over 1,300 pornographic films. He is credited with helping to launch the career of his lover, the male porn star Nacho Vidal.
Siffredi's screen name was reportedly inspired by a character from the movie Borsalino (1970), "Roch Siffredi", played by Alain Delon. He is also known as "the Italian Stallion", a reference to his penis size.
Porn career
After starting his film career in France, he subsequently starred in films abroad in such varied locales as Budapest, Hungary (which later became the headquarters of his production company, Rocco Siffredi Produzioni), Canada, Russia, Brazil, and various Eastern European countries. He became infamous in the pornographic film community for his penchant for anal sex and analingus, which built him a cult following over the course of his career.
Siffredi's films vary widely in content and tone. He has appeared in romantic adventures and comedies in the Vivid style, but his later work with John Stagliano's Evil Angel Video is informed by the style of Max Hardcore. These later films involve BDSM scenes in which Siffredi spits on women, slaps them, performs irrumatio and watersports (censored in U.S. versions), makes his co-stars gag during deepthroat, and occasionally pulls hair to the point of causing tears. On rare occasion, Siffredi himself has been the recipient of dominant sexual treatment, portraying the submissive in films like Rocco più che mai a Londra 2, Animal Trainer 11, and Il Marchese de Sade, appearing in drag in the latter.
Many of his films begin with affectionate, romantic scenes that turn into bouts of energetic anal sex. Climaxes often involve such activities as Siffredi focusing the camera on the distended anus of one of his female co-stars, spitting into it, ejaculating into it, and then having other co-stars clean the woman's anus with their tongues.
Another hallmark of Siffredi's films is allowing male fans, picked up by the production crew, to ejaculate onto the faces of his female co-stars; Siffredi took this tradition one step further when directing Never Say Never to Rocco Siffredi, when, filming in a park, Siffredi grabbed passing (presumed) strangers and then requested that his female co-stars perform oral sex on them. Although they appear genuine, it is not uncommon for such seemingly realistic scenes to be set up ahead of time by directors/producers. Despite the sometimes extreme nature of his genre of pornography, he has been consistently able to find young European actresses willing to star in his pictures.
[edit] Series
Siffredi has sometimes compiled his work into different thematic series, each with numerous installments:
* Rocco's Initiations feature the actor pairing with various young European starlets or attractive girls off the street, most of whom are (or seem) new to pornography.
* Rocco's True Anal Stories features Siffredi and other actors with more established (and invariably beautiful) female performers, all of whom show greater experience with and desire for anal sex.
* Rocco - Animal Trainer is Siffredi's roughest line and the one which has garnered him the most fame in America. The series features female porn stars who are considered to be the most seasoned, jaded, or most open to extreme sexual practices, being pushed to the absolute limit. There is a heavy emphasis on rougher, more sadistic sex, with hard facial slapping, violent hair-pulling and scenes of rough anal sex. In Animal Trainer 15, Siffredi engages in anal sex with American porn actress Jewel De'Nyle, and forces her head into a toilet at the end of the scene. (The image of Siffredi dunking a gasping female performer's head into and out of a water-filled toilet bowl has become a key graphic in the promotional artwork for many of his European releases).
Siffredi has recently added a Transsexual title (She-Males Invade Italy) to his list of credits (although he appears in the video, he is never in a scene with a Transexual), and directed a film (Hazardous Duty) that includes an authentic sequence depicting an actress engaging in bestiality.
In mainstream media
Rocco spotlighted in the December 1990 issue of Playgirl.
Rocco spotlighted in the December 1990 issue of Playgirl.
Siffredi is one of a few porn actors to enjoy crossover appeal and success with respect to other segments of the adult-film industry, as well as some in mainstream media. As a primary example, although his acting has been restricted exclusively to heterosexual pornography, his good looks have resulted in his attracting a large gay audience. In December 1990, Rocco was selected to pose as the nude centerfold in the adult mainstream magazine Playgirl. Depicted on the cover next to Rocco was the caption "At last, a centerfold to die for." This publicity improved Rocco's mass appeal to American porn audiences.
In 1999, he appeared in the controversial Catherine Breillat film Romance. His performance in this role was followed by a part specifically written for him by the same director in her 2003 film Anatomie de L'enfer (Anatomy of Hell), in which he plays a bisexual man who becomes sexually involved with a woman. Both films feature unsimulated sexual scenes involving Siffredi, although it is disputed whether he actually has intercourse with co-star Caroline Ducey in Romance. (She says no, Siffredi says yes.)
Siffredi is also visible in non-pornographic roles on Italian television, including:
* Television commercials for Amica Chips, a snack food.
* With his wife, in a television commercial for 48248, an SMS service.
* As the unwitting participant in an episode of Scherzi A Parte, a program similar to MTV's Punk'd.
[edit] Personal life
Siffredi has been married to Hungarian-born, naturalised Italian porn actress and a former Miss Hungary Rosa Caracciolo (born Rozsa Tassi) since 1991.
In June 2004, Siffredi declared that he would retire from performing in porn for the sake of his children, and instead focus on filming and producing. "My children are growing up," he said, "and I can no longer just say 'Dad is going to work to make money for the family.' They want to know more."
However, as of 2007, Siffredi has continued to perform. Porn director Axel Braun told Adult Video News in 2004: "The problem is that he's been trying for years to find an 'heir to the throne,' but it's no easy task. He thought he found him in Nacho Vidal, but then Nacho went his own way."
He was said to have taken a year off of working in front of the camera after having elected to be circumcised.