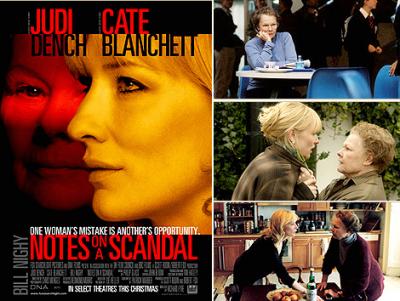 Película: Babel, de Alejandro González Iñárritu..
Nominadas: El laberinto del fauno, de Guillermo del Toro. Cartas desde Iwo Jima, de Clint Eastwood. Notas de un escándalo, de Richard Eyre .Little children, por Todd Field. The host, de Joon-ho Bong. El catador de venenos, de Yoji Yamada
Actor: Forest Whitaker por El último rey de Escocia
Nominados: Ulrich Mühe, por La vida de los otros. Leonardo DiCaprio por The departed.. Ryan Gosling, por Half Nelson. Daniel Hendler, por Derecho de familia. Arthur Dupont, por Chacun sa nuit. Sacha Baron Coen, por Borat. Michael C. Hall, por Dexter (TV). Gerad Buttler, por 300.
Actriz: Helen Mirren, por The Queen
Nominadas: Penelope Cruz, por Volver.Judi Dench, por Notas de un escándalo.Meryl Streep, por El Diablo viste de Prada.Anne Hathaway, por El diablo viste de Prada. Sienna Miller, por Factory girl.Gretchen Mol, por The notorious Bettie Page.
Actor secundario: Takashi Sasano, por El catador de veneno.
Nominados: Brad Pitt Babel. Sergi Lopez, por El laberinto del fauno. Patrick Wilson Little children. Djimon Hounsou, por Blood diamond. Philip Glenistery Dean Andrews, por Life on Mars (TV). Vicente Romero, por La noche de los girasoles. Harry Dean Stanton, por Big love (TV).Channing Tatum, por Memoria de Queens. Robert Webb, por Confetti. Tom Hardy, por Scenes of a sexual nature.
Actriz s. Adriana Barraza, por Babel.
Nominadas: Maribel Verdú, por El laberinto del fauno. Blanca portillo, por Volver. Rinko Kikuchi, por Babel. Cate Blanchet, por Notas de un escándalo. Brittany Murphy, por the dead girl. Hayley Atwell, por The line of beautiful (TV) Chloe Sevigny, por Big Love (TV). Grace Zabriskie, por Big love (TV)
Guión: Hijos de los hombres.
Nominados:La vida de los otros.Pequeña Miss Sunshine.
Fotografía: The fall
Nominados: María Antonieta. Apocalypto.