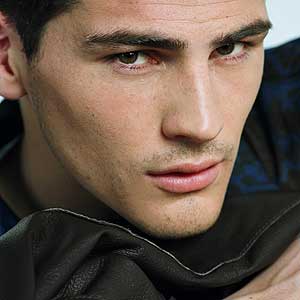 Date of birth May 20, 1981
Place of birth Madrid, Spain
Height 1,85 m
Nickname Ikerman
Position Goalkeeper
Club information
Current club Real Madrid
Number 1
Professional clubs*
Years Club Apps (goals)
1999 - Real Madrid 236 (0)
National team**
2000 - Spain 64 (0)
Iker Casillas FernándezBorn in Madrid in 1981, Casillas' entire career has been spent with his hometown club Real Madrid, which he joined as an eight-year old. He first hit the limelight at 17 when he was pulled out of a high school art class to be told he would be on the bench for a Champions League match. His breakthrough came during the 1999-2000 season, when he replaced the injured Bodo Illgner and played in Madrid's UEFA Champions League triumph in an all-Spanish final against Valencia CF where his senior team mates Raúl González, Fernando Morientes and Steve McManaman scored in a 3-0 win.
Loss of form subsequently allowed César Sánchez to take the starting position as goalkeeper, but Casillas reclaimed the limelight after coming on as substitute for the veteran in the 2002 UEFA Champions League Final against Bayer Leverkusen and preserving Madrid's 2-1 lead with a series of fine saves.Casillas came on to replace the injured Cesar with 22 minutes remaining at Hampden Park and produced a series of outstanding saves to ensure Real held on to their lead. At one point Leverkusen appeared to be queuing up to score but Casillas was at his best, his efforts to deny Yildiray Basturk and Dimitar Berbatov particularly brilliant.
Again the Real Madrid first choice in the 2002-03 season, an injury-free season saw Casillas play in 15 of his side's Champions League games as well as all 38 Primera División matches as Madrid reclaimed the Spanish championship. In the 2003-04 season, Casillas was virtually ever-present as Madrid relinquished their crown and lost the Spanish Cup final, missing just one league game.
Despite Casillas' stellar performances every week, Real Madrid suffered two trophyless seasons in the 2003-04 and 2004-05 seasons. Although Casillas was widely considered the team's most consistent performer during this lean patch, there was much gossip and speculation regarding a possible transfer to another club. Manchester United was the name that regularly cropped up in newspapers. It was speculated that Casillas was unhappy with his salary, which was paltry in comparison to the amounts earned by some of the team's bigger stars. However, the saga ended when the player signed a contract extension on the November 30, 2005, tying him to the club till 2011.
[edit] National team