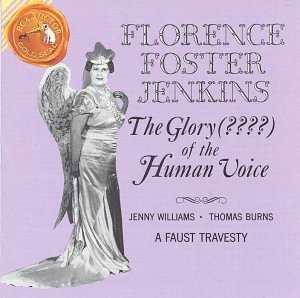 Florence Foster Jenkins (1868–November 26, 1944) was an American soprano who became famous for her complete lack of singing ability.
Biography
Born Florence Foster in 1868 in Wilkes-Barre, Pennsylvania, Jenkins received music lessons as a child, and expressed a desire to go abroad to study music. Her wealthy father refused to pay the bill, so she eloped to Philadelphia with Frank Thornton Jenkins, a medical doctor, who became her husband (the two divorced in 1902). She earned a living there as a teacher and pianist. Upon her father's death in 1909, Jenkins inherited a sum of money which allowed her to take up the singing career that had been discouraged by her parents and former husband. She became involved in the musical life of Philadelphia, founding and funding the Verdi Club, took singing lessons, and began to give recitals, her first in 1912. Her mother's death in 1928 when Florence was 60 gave her additional freedom and resources to pursue singing.
From her recordings, it is apparent that Jenkins had little sense of pitch and rhythm and was barely capable of sustaining a note. Her accompanist can be heard making adjustments to compensate for her tempo variations and rhythmic mistakes. Nonetheless, she became tremendously popular in her unconventional way. Her audiences apparently loved her for the amusement she provided rather than her musical ability. Critics often described her work in a backhanded way that may have served to pique public curiosity.
Despite her patent lack of ability, Jenkins was firmly convinced of her greatness. She compared herself favourably to the renowned sopranos Frieda Hempel and Luisa Tetrazzini, and dismissed the laughter which often came from the audience during her performances as coming from her rivals consumed by "professional jealousy." She was aware of her critics, however, saying "People may say I can't sing, but no one can ever say I didn't sing."
The music Jenkins tackled in her recitals was a mixture of the standard operatic repertoire by the likes of Wolfgang Amadeus Mozart, Giuseppe Verdi and Richard Strauss (all of them well beyond her technical ability), Lieder (including works by Johannes Brahms and Joaquín Valverde's "Clavelitos," a favourite encore), and songs composed by herself or her accompanist, Mr. Cosmé McMoon (who was in reality the famous and talented accompanist Edwin McArthur). Jenkins often wore elaborate costumes that she designed herself, sometimes appearing in wings and tinsel, and, for "Clavelitos," throwing flowers into the audience while fluttering a fan and sporting more flowers in her hair.
After a taxicab crash in 1943 she found she could sing "a higher F than ever before." Instead of a lawsuit against the taxicab company, she sent the driver a box of expensive cigars.
In spite of public demand for more appearances, Jenkins restricted her rare performances to a few favorite venues, and her annual recital at the Ritz-Carlton ballroom in New York City. Attendance of her recitals was always limited to her loyal clubwomen and a select few others - she handled distribution of the coveted tickets herself. At the age of 76, Jenkins finally yielded to public demand and performed at Carnegie Hall on October 25, 1944. So anticipated was the performance that tickets for the event sold out weeks in advance. Jenkins died a month later.
There have been claims that Jenkins's entire 32-year career was an elaborate joke on the public, which seems to be in contradiction with another claim that her death after the Carnegie Hall performance was a result of derision by her critics. However, there is little evidence for either claim. All indications are that Florence Foster Jenkins died with the same happy, confident sense of fulfillment that pervaded her entire artistic life.
Jenkins recorded nine arias on five 78-rpm records, which have been reissued on three CDs. The Muse Surmounted: Florence Foster Jenkins and Eleven of Her Rivals (Homophone Records) contains only one Jenkins' performance, Valse Caressante, for voice, flute & piano, but it includes an interview with the composer, who was also her accompanist, Mr. Cosmé McMoon. The Glory (????) of the Human Voice (RCA Victor) contains the other 8 arias, all accompanied by Mr. McMoon. Murder on the High C's (Naxos) contains all 9 arias plus performances by others, but it lacks the interview with McMoon. In 2001, a play about Jenkins by Chris Ballance had a run at the Edinburgh Fringe. Another play about Jenkins' life, Souvenir, opened on Broadway in November 2005, and starred Judy Kaye as Jenkins. Meanwhile, a new play about Jenkins, Glorious by Peter Quilter, opened in September 2005 in England. It has been said to provide a wonderful vehicle for Maureen Lipman who in the words of the New York Times reviewer "ably supported by William Oxborrow, Janie Booth et al, provides a thoroughly entertaining evening complete with much double entendre, theatrical in jokes to say nothing of some terrible singing! Lipman, as always, knows exactly how to create a character both funny and sad and vulnerable at the same time."