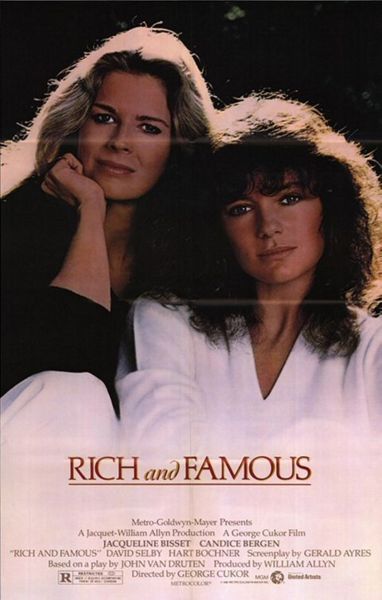 Rich And Famous is a 1981 comedy drama film made by Jaquet and Metro-Goldwyn-Mayer. It is a remake of the 1943 Warner Bros film Old Acquaintance starring Bette Davis and Miriam Hopkins.
The film was directed by George Cukor and produced by William Allyn and Jacqueline Bisset, from a screenplay by Gerald Ayres based on the play Old Acquaintance (1941) by John Van Druten. The music score was by Georges Delerue and the cinematography by Donald Peterman.
The film stars Jacqueline Bisset, Candice Bergen, David Selby, Hart Bochner. Also featured were Matt Lattanzi, Meg Ryan and Nina Foch.
Plot
Spoiler warning: Plot and/or ending details follow.
Two women find their friendship tested when one rises from obscurity to success: Liz Hamilton (Jacqueline Bisset) a young woman with literary ambitions who writes a critically acclaimed book soon after leaving college and Merry Noel Blake ((Candice Bergen), an all-American blond beauty from Atlanta who desires nothing more than a husband, a child and a life of domesticity. They are close friends who met while they were freshmen at Smith College in the 1950s. Liz has become a highly respected novelist, while Merry wed Doug Blake (David Selby), raised a family and lives in a house on the beach at Malibu. While Merry is happy, she can't help but envy Liz for her glamorous career as an author. Merry decides to write a novel of her own, and with Liz's help, the book, A House by the Sea soon finds a publisher and becomes a huge best-seller and Merry's fame and wealth soon outstrip that of Liz, leading to jealousy between the old friends and problems in Merry's marriage.
[edit] Cast
* Jacqueline Bisset - Liz Hamilton
* Candice Bergen - Merry Noel Blake
* Meg Ryan - Debby at Age 18
* David Selby - Doug Blake
* Hart Bochner - Chris Adams
* Steven Hill - Jules Levi
* Michael Brandon - Max
* Matt Lattanzi - Jim, the Boy
* Daniel Faraldo - Ginger Trinidad
* Frank de Felitta
* William G. Schilling - Waldorf Doorman
* Allan Warnick - Desk Clerk
* Damion Sheller - Max's Son
* John Perkins - Limo Driver
* Oliver Hailey - Literary Party Guest
* Fay Kanin - Prof. Fields
* Charlotte Moore - Clerk in Cartier
* Randal Kleiser - Literary Party Guest
* Gavin Lambert - Literary Party Guest
* Roger Vadim - Malibu Party Guest
* Paul Morrissey - Malibu Party Guest
* Alan Berliner - Photographer
* Nicole Eggert - Debby at 8
* Nina Foch - Rich and Famous People
* Herb Graham - Waiter
* Frances Bergen - Literary Party Guest
* Dick Cavett - Himself
* Ray Bradbury - Literary Party Guest
* Ann Risley - Max's Wife
* Pola Miller - Malibu Party Guest
* Kres Mersky - Judy Heller
* Cloyce Morrow - Martha Antilles
* Merv Griffin - Himself
* Marsha Hunt - Herself
* Joe Maross - Martin Fornam
* Christopher Isherwood - Malibu Party Guest
[edit] Notes
* Robert Mulligan was the original director, but he had to bow out because of previous engagements and was replaced by George Cukor.
* Rich and Famous was the final picture directed by George Cukor.
* The party sequences include such literary and cinematic notables as Christopher Isherwood, Ray Bradbury, Paul Morrissey, and Roger Vadim.