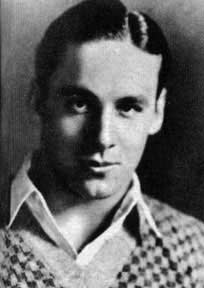 George O'Brien (April 19, 1899 - September 4, 1985) was a publicly popular actor of the silent film era and into the talkie era of the 1930s.
Born in San Francisco, California, O'Brien was the son of a policeman who later became police chief of San Francisco and then California Director of Penology. O'Brien was a popular college athlete before enlisting in the United States Navy to fight in World War I, then as a stretcher bearer in the marine corps. The young war veteran came to Hollywood, California in his early twenties and began his acting career in bit parts and as a stuntman. One of his earliest roles was in in the 1922 George Melford directed drama Moran of the Lady Letty, most notable for starring Rudolph Valentino. In 1924 O'Brien received his first starring role in the drama The Man Who Came Back opposite the English actress Dorothy Mackaill. That same year he was chosen by the famed movie director John Ford to star in his first film The Iron Horse. The film was an immense success at the box-office and O'Brien made four more films for Ford. In 1927 he starred in Sunrise opposite Janet Gaynor, which won three Academy Awards, was directed by F. W. Murnau, and remains widely considered by critics to be one of the finest and most powerful films ever made.
O'Brien would spend the remainder of the 1920s as an extremely popular leading man in films; often starring in action and adventure roles alongside such publicly popular actresses of the era as Alma Rubens, Anita Stewart, Madge Bellamy and Janet Gaynor.
O'Brien married the actress Marguerite Churchill on July 15, 1933 and the couple had a son, Darcy O'Brien in 1939 who would become a successful writer and a daughter, Orin O'Brien who would become a double bassist with the New York Philharmonic. The couple divorced in 1948.
With the advent of sound, George O'Brien became a popular star of Westerns and rarely took parts outside of the Western film genre. Throughout the 1930s, O'Brien was a consistent Top Ten box-office draw appearing in scores of Westerns, often atop his horse named Mike.
George's height was either 5'11" (1.80m) or 6'0½" (1.84m).
During World War II, O'Brien re-enlisted in the United States Navy where he served in the Pacific and was decorated several times. He left service with the rank of captain, having four times been recommended for the rank of admiral [citation needed]. George O'Brien suffered a heart attack and was bedridden the last few years of his life. He died in 1985 in Tulsa, Oklahoma, USA.
For his contribution to the motion picture industry, George O'Brien was awarded a star on the Hollywood Walk of Fame at 6201 Hollywood Blvd., in Los Angeles, California.