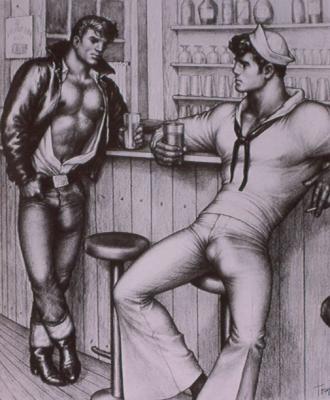 TOM OF FINLAND was born Touko Laaksonen in 1920 in the village of Kaarina, Finland. At the age of nineteen, he moved to Helsinki to attend art college and, for his own personal enjoyment, created his first homoerotic drawings.
Following his release from the army after World War II, Touko began to work in advertising. He continued to draw his fantasies and, urged by close friends, submitted them to the American bodybuilding magazine Physique Pictorial. Because of the conservative social climate in 1957, he chose to be published under the pseudonym "Tom of Finland."
His images were an immediate success, followed by the publication of numerous booklets and anthologies, and since 1973, his work has been exhibited in museums and galleries worldwide.
With his friend Durk Dehner, he founded the Tom of Finland Company in 1979; the Tom of Finland Foundation was formed five years later as a non-profit educational archive to preserve, restore, and exhibit erotic art.
In 1991, he was featured in the film documentary Daddy and the Muscle Academy - The Art, Life, and Times of Tom of Finland. Later that year, he died of complications from emphysema.