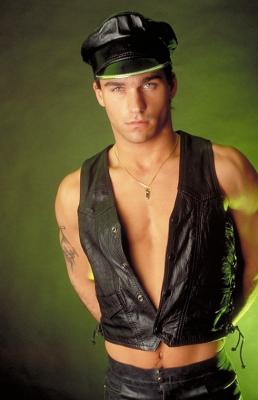 Joey Stefano (January 1, 1968 - November 26, 1994) was an American pornographic actor (porn star) who appeared in gay adult films. He was popular in the late 1980s and early 1990s. His real name was Nicholas Anthony Iacona, Jr.

Nick Iacona grew up in suburban Philadelphia (Chester, Pennsylvania). His father died when he was 15. After several years of prostitution and drug use in New York City, Iacona moved to Los Angeles and enjoyed a meteoric rise to stardom in gay pornography. A notable reason for his popularity, besides his smoldering good looks, was his early mastery of the "hungry bottom" (sexually submissive but verbally demanding) persona.

He was HIV+ (positive) in the latter part of his film career, allegedly because he was hustling when he couldn't find porn work.

His image and success caught the attention of Madonna, who used him as a model in her 1992 book Sex.

During his lifetime, he was the subject of rumors (some of them spread by himself) regarding his relationships with prominent entertainment industry figures who were known to be gay. At a May 1990 dinner and interview with Jess Cagle (People Magazine) and Rick X (Manhattan Cable TV's "The Closet Case Show"), hosted by Chip Duckett at the NYC restaurant Florent, which was also attended by Michael Musto (Village Voice) and Robin Byrd, Stefano discussed a "date" he had with David Geffen. After the interview appeared on Rick X's show, OutWeek Magazine "outed" Geffen, who went on to proudly announce his gayness at an AIDS fundraiser. The interview can be viewed at Rickx.com [[1]].

Iacona died of an overdose of cocaine, morphine, heroin and ketamine at age 26. His body was shipped back to Pennsylvania and he was buried next to his father.

Charles Isherwood, in his 1996 biography Wonder Bread and Ecstasy (Alyson Publications), alleges that Stefano was molested as a child.
* All About Last Night
* All Boy Orgy
* Ball Gravy (Vivid Man)
* Ball Toss (Vivid Man)
* Berlin Army Nights
* The Best of Joey Stefano (Vivid Man, Metro/Rage)
* The Best of Jon Vincent
* Big Bang (Falcon Video Pac 69)
* Big Sir (Vivid Man)
* Billboard
* Cum in My Ass
* Dreams of Damien
* Dripping Cum
* Fond Focus (Directed by Chi Chi LaRue)
* French Kiss (Directed by Chi Chi LaRue)
* Gay Sex in Public Places
* Hard Steal
* Huge Cocks Huge Toys
* Idol Eyes
* Incredible Anal
* Inside Vladimir Correa (Venus/Stallion Videos)
* Joey
* The Legend of Joey Stefano
* Man of the Year
* Marked Men
* Masquerade
* Matt Gunther & Friends (Rage Video)
* Men Of Forum (Directed by Sam Abdul)
* Men Who Love Cock
* Men with Uncut Dicks
* Monster Cocks
* More of a Man (Directed by Jerry Douglas)
* My Cousin Danny (Mustang Video Pac 18. Directed by Chi Chi LaRue)
* Obsessively Compulsive
* On the Rocks
* One Man's Poison
* Penis Fly Trap
* Perfect Tens
* Plunge (Falcon Video Pac 66)
* Prettiest Face I Ever Came Across (Vivid Man)
* Prince Charming
* Ranger Nick II
* Revenge-More than I Can Take! (Falcon Video Pac 67)
* Scoring
* Sex in Wet Places
* Slave to Cock (Vivid Man)
* Songs in the Key of Sex
* Stryker's Best Powerful Sex
* Sweet in the Bootie (identical to Jocks Videopac #40)
* "Tijuana Toilet Tramps"
* Tough Competition 2
* Uncut Club
* Undergear
* What Men Do
* Young Guys with Tight Asses