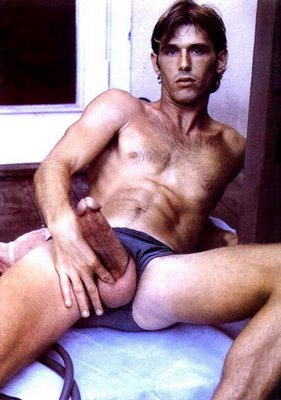 Lee Ryder (birth name: Darras Robert Pyron; born on August 3, 1959, Laguna, California, and died on July 10, 1991, in Los Angeles, California) was an American porn star who performed in gay pornography films from 1981 to 1986.
With his bad-boy good looks and slim body, Lee Ryder became one of the first gay porn superstar during a period when the pornography industry was making its transition from film to video in the early 1980s. Several of Ryder's first films were initially released on 8mm film reels as well as video (VHS and BetaMax).
Ryder's first performanace as a gay porn actor was in the film All American Boys, but it was not released until after his first film for Falcon Studios, Huge, was released in 1982. Huge had a very appropriate title as it not only described Ryder's sizable penis (ten inches), but it also applied to how well the film and Ryder as a performer was received in the gay porn market. Huge was the beginning of Ryder's gay porn stardom which lasted until 1984 when new porn actors, such as Jeff Stryker, began arriving in the gay porn film industry. Ryder starred in only thirteen gay films from 1982 to 1986, but pictures of his face and body appeared in dozens of issues of gay porn magazines such as Drummer, Honcho, Stalion, and Mandate from 1982 to the 1990s. As recent as 2000, Unzipped featured several unpublished photos of Ryder in two separate issues. Even after more than twenty years after their initial release, videos featuring Ryder continue to gain new audiences.
Lee Ryder was romantically linked to Rod Phillips (birth name: Gregory Leslie Patton) whom Ryder convinced to work in the gay film industry. Philips became a gay porn star himself and he and Ryder shared several film credits (among others, Winner Takes All and The Biggest One I Ever Saw). Their relationship was reportedly acrimonious and they soon parted company after Ryder's fame began to fade.
Ryder died of AIDS-related complications in 1991.