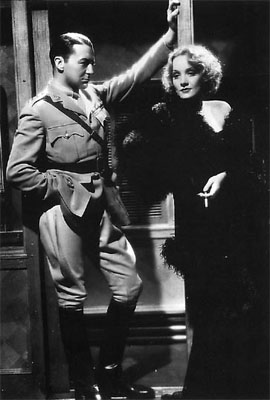 Glamour, understated elegance, and exquisite fabrics endeared Travis Banton to the most celebrated of Hollywood's beauties and made him the most sought-after costume designer of his era.
Beginning with Norma Talmadge in "Poppy," Banton designed clothing for Pola Negri and Clara Bow in the 1920's.
In the '30's and '40's Banton designed for such stars as Kay Francis, Lilyan Tashman, Sylvia Sidney, Gail Patrick, Helen Vinson, and Claudette Colbert.
Ultimately, Travis Banton may be best remembered for forging the style of such Hollywood icons as Carole Lombard, Marlene Dietrich, and the inimitable Mae West.
Banton was educated at Columbia University and at the Art Students League where he studied art and fashion design.
An early apprenticeship with a high-society costume dressmaker earned him fame. When Mary Pickford selected one of his dresses
for her wedding to Douglas Fairbanks, his reputation was established.
He opened his own dressmaking salon in New York City, and soon was asked to create costumes for the Ziegfeld Follies. In 1924, Travis Banton moved to Hollywood when Paramount contracted with him to create costumes for his first film, "The Dressmaker
From Paris."
When Designer Howard Greer left Paramount, Banton was promoted to Head Designer and was responsible for dressing the
studio's most illustrious stars. Banton eventually left Paramount to start his own business, and also designed for Fox from 1939-1941 and Universal from 1945-1948.
Travis Banton knew how to make women look beautiful. Wielding the bias cut and a powerful design talent, Banton enveloped his stars in magic. The allure, the mystery, and the charisma of Dietrich was masterfully visualized in film after film. Banton has left us with indelible screen images: goddesses on earth, and those of his creation.