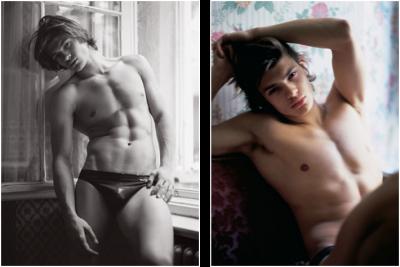 This article is about the swimsuit manufacturer. For the genericized trademark referring to the swimsuit style see Speedo (suit style).

Speedo is a swimsuit manufacturer that began on Bondi Beach near Sydney, Australia. Speedo is currently the world's largest selling swimwear brand and manufactures products for both recreational and competitive swimming. Its trademark is a red boomerang-shaped logo.

Today the company is headquartered in Nottingham and is owned by the London based Pentland group .

History

The company was founded in 1914 by hosiery manufacturer Alexander MacRae as MacRae Knitting Mills in an effort to expand his company into swimwear. In 1928 the name Speedo was first adopted after the firm developed its racerback design of swimwear making it one of the first manufacturers to specifically produce athletic designs. The name was made up by a Captain Jim Parsons who won a company competition with the slogan "Speed on in your Speedos."

During World War II the manufacturer shifted nearly all of its production to war materials such as mosquito nets. Speedo resumed production after the war and became a publicly traded corporation in 1951. In 1955 Speedo introduced nylon into its fabric for competitive swimwear. The 1956 Olympics in Melbourne saw the widespread debut of the new fabric and the introduction of the style of men's briefs that has become associated with the brand. The company quickly expanded into the international arena from there until the present, boasting that 70 percent of swimming medals were won by athletes wearing its products in the Olympic Games of 1968, 1972, and 1976.

During the 1970's and 80's new fabrics such as lycra were incorporated into the company's swimwear design. During the late 1990's the company turned its attention to its aquablade and fastskin product lines of competitive swimwear. The designs employ new fabrics that the company claims will reduce resistance in the water by replicating biological skin characteristics of various marine animals such as sharks.

Though it still manufactures the traditional briefs, jammers and racerback designs that made the company famous, Speedo's latest competitive swimwear designs incorporate suits that provide greater coverage to the arms, legs, and even full body for their top end lineup. Their high-end suits often sell for in excess of $300 (in US Dollars) for the Fastskin 2 series. The company also continues to manufacture recreational swimwear, goggles, earplugs, swim caps, towels, robes, sportswear and other logo clothing, watches, sandals, beach volleyball and triathlon products, lifeguard gear, and training supplies for competitive and recreational swimmers.

Australians have long enjoyed and even laughed at the Speedo as a piece of swimwear and the lack of modesty that it provides. Slang terms for the men's Speedo include "budgie smugglers" and "banana hammocks".

Athletes

Some athletes who have been sponsored by the Speedo brand include Grant Hackett, Michael Klim, Megan Jendrick, Greg Louganis, Janet Evans, Michael Phelps, Natalie Coughlin, Amanda Beard, Dawn Fraser, and Kosuke Kitajima.
Use
A speedo, which takes its name from the swimsuit brand Speedo, may refer to any briefs-style male swimsuit such as those used in competitive swimming, regardless of the actual manufacturer (see genericized trademark). Such garments are otherwise also referred to as competition briefs, swim briefs, posing briefs, banana hammocks or racing briefs. The term is most common in American English but is also widely used in other English-speaking countries.
Like the underwear briefs, speedos feature a "V-shape" front and solid back providing form-fitting coverage. They are typically worn below the lower waist. They are secured by a drawstring and thin banding at the upper thighs. Most speedos are made of a nylon and lycra/spandex composite. Suits commonly have an elastic front lining made of similar fabric and are secured around the waist with a cord draw string.
Speedos are used by professional and recreational athletes in many water sports. They are preferred in competitive swimming for the reduction of the water's drag on the swimmer, although knee-length jammers are also common for male swimmers. Speedos are typically worn by competitive divers and in water polo. Some participants in sports that require a wetsuit such as waterskiing, Scuba diving, surfing and wakeboarding prefer to wear speedos as an undergarment to the wetsuit, as opposed to shorts, for purposes of comfort.
Styles
Briefs used for competitive and recreational swimming are manufactured in standard sizes and in waist measurements. They are available in a wide variety of solid colors and patterned designs.
Racing Suits
The most common racing suit styles are 1.5in to 3in panelled briefs (as measured by the length of the suit's side panel). The racing suit's main function is to reduce the drag of an athlete in water, thus improving his time. For this reason racing suits are made of materials that hug the body, minimize friction and minimize water retention. Lycra (Spandex) suits generally produce less drag, but are also more vulnerable to prolonged exposure to chlorine than nylon. Therefore, nylon suits are preferred for training and practice, where the increased durability is required for the long periods of usage and the extra resistance has is a training benefit. Lycra suits (and composite hi-tech swimwear fabrics) are preferred for actual racing. In water polo and sometimes in diving, suits may have panels greater than 3 inches.
Racing suits are commonly referred to as speedos. Water polo players generally wear racing suits, despite the trends in swimming to move to jammers or square cuts.
Drag Suits
Some swimmers use a specialized training suit to simulate increased drag during practice. Drag suits are briefs with an outer layer of looser fabric - often mesh or nylon - to increase resistance against the water and build up the swimmer's endurance. They come in a variety of styles, though most resemble a looser fitting square-cut suit.
Triathlon Swimming Briefs
A special variety of briefs made for the triathlon features the racing suit's design for the swimming portion of the race but also incorporates light padding in the crotch of the garment for the bicycle portion of the race. This is a lighter version of the chamois in cycling shorts, to allow running in to be performed more efficiently and the faster drying of the shorts after the swim.
Square Leg Suits
The square cut or square leg style suit is sometimes used as a slightly more conservative style than the racing brief for water polo and diving, or for recreational wear. They typically sit low on the waist and high on the thigh, but provide more coverage for the upper leg than briefs. The square-cut style was popular as a recreational swimsuit for men during the 1950's.[1]
Suits of this type are named for the coverage that they provide to the upper thighs due to a square seam opening for the leg. Square leg suits range in appearance from those similar to the racing brief with a slightly straighter front and wider side panelling (eliminating the arc appearance on the leg) to those resembling some underwear designs (such as trunk style of boxer briefs) by providing an inch or more of fabric coverage over the upper section of the leg.
Another type of the square leg suit nicknamed the "funky short" for its colorful floral patterns was popular in Australia in the 1970's and made a fashion comeback in 2004 for recreational swimming and beach wear. In 2006 square cut suits resembling its 1950's predecessor made a comeback in the United States and Europe. Several fashion designers including Versace and Dolce & Gabanna introduced designer retro-style square leg suits to their catalogs, and Speedo followed suit with a more moderately priced version.[2]
Men's Bikinis
Suits less than 1.5 inches wide at the hips, sometimes called bikinis, are less common for sporting purposes and, unlike the racing style, are not designed specifically for drag reduction. Bikinis are sometimes worn for recreational uses including fashion preferences and sun tanning to minimize suit coverage. This style is also popular in the sport of bodybuilding where it is known as the posing brief.
Fashion
Swimwear designs in the 20th century, especially among women, moved progressively toward comfort and became more revealing with the introduction of styles such as the bikini. Speedos may be the equivalent swimwear development for men, but the fashion has caught on at greatly different paces depending on the region of the world.
Austin Silver, a fashion consultant at AskMen.com points to the athletic advantages, comfort, range of motion, and obtaining a better tan as the main reasons stated by people who wear the style. [3] Others recommend their hydrodynamics for swimming, much like competitive swimmers. The speedo style also dries quickly for wear out of the water.[4]
Due to its apparent utilitarian value for both swimming and sunbathing, the bikini-type competitive swimsuits colloquially known as "budgie smugglers" became popular among non-professional swimmers and beach-goers in many parts of the world. Men of all ages wear speedos at beaches and pools in Europe, Asia, and South America.
In the United States of America, however, the opposite trend has developed since the 1980s. While women's swimwear remains scanty, men's swimwear has evolved into boardshorts that are baggy and long enough to reach the knees, or below. Analysts attribute this phenomenon to the unique and intriguing interplay of religion, conservatism and human sexuality in the U.S., as in an essay by Kevin Esser.
World
The fashionability of speedos varies greatly in different parts of the world. The style is commonly worn by men in regions such as Australia, South America, and Europe (as well as competitive swimmers and divers in all countries). In Europe, says Silver, "Speedos are the bathing suit of choice for men, young and old." Fashion expert Chris Ronvy concurs, noting their comparative popularity in Europe over the United States, where he "recommend(s) wearing swimming trunks instead of a Speedo any day."[5]
According to fashion experts whether or not the style is fashionable is often a product of culture and geography. A recent store sales estimate indicated that speedos were the preferred swimsuit for men in Australia (known as "budgie smugglers" or "banana hammocks"), beating out boardshorts (known as "boardies") by 60% to 40%.[6] The style is historically less popular in nearby New Zealand where a recent poll showed three quarters of men preferring shorts to speedos [7], but fashion there has been trending toward speedos in recent years.[8] Speedos have also been gaining popularity amongst sportsmen in Australia and New Zealand as underwear during competition, especially in rugby. Reasons for wearing them include increased support and comfort. In some South American countries such as Brazil, speedos are the norm and the standard racing brief style can be relatively conservative.
North America
In contrast to Europe, more modest styles such as boardshorts are the most common swimsuit style for men in North America where the speedo is sometimes seen as too revealing or aesthetically unfashionable on some people. One of the most common American fashion complaints is that speedos are worn by "the wrong people." [1] A lot of the fashion preference in this region appears to be the result of the negative stereotypical image of an overweight, elderly, and/or excessively hairy European walking on the beach in a speedo-styled suit. Several fashion surveys of North American women have rated speedos unfavorably due to this negative image. Silver observes "it's all about the environment" and predicts that the negative stereotype of the "fat, hairy, old guy who struts his stuff" would go by the wayside among Americans if the design became fashionable in their culture.[1] For example, the negative "elderly European" image is not as much of problem in New Zealand and Australia, where the style is more popular among younger generations. [9] Recent data showing most Speedos in New Zealand are bought by men aged between 20 and 32.
Stereotypical speedo wearer that discourages speedo use in North America
Enlarge
Stereotypical speedo wearer that discourages speedo use in North America
In 2006 several swimwear designers added square-legged speedos to their United States catalogs reflecting their increasing popularity. This trend is considered a reaction to the board short's recent popularity as a piece of everyday clothing, moving away from its swimwear origins. Also contributing is the metrosexual phenomenon, which has raised body and clothing consciousness among young urban professionals. Despite this trend, the speedo remains taboo for many Americans, at least in public.[2] A swimwear retailer recently interviewed on fashion trends by the Contra Costa Times remarked "I don't think a lot of guys would admit that they buy them, but they do." The Times' article indicates that location may determine where Americans wear speedos. "There's also public versus private swimwear, as in sunbathing at home or on vacation."[There's also public versus private swimwear, as in sunbathing at home or on vacation.]
Even in North America, fashion opinions about the speedo are often more favorable when the person is in shape and in specific circumstances - typically when worn by athletes and physically fit persons. Many celebrities and pop culture icons who don the speedo style such as Prince William of Great Britain and football (soccer) star David Beckham have gotten media attention for their fashion choice.[10]
Manufacturers
In addition to the style's namesake company Speedo, competitive briefs-style swimwear are produced by companies including Nike, truWest, Tyr, Dolce & Gabbana, Dolfin, Arena and Adidas. Many of these companies have expanded their merchandise to reflect recent trends in water sports. These include the growing popularity of the jammer style and the development of full body suits for competitive swimming. On the fashion end, several designer companies including Nautica have begun lines of speedo-style suits in the United States. Most designer brands of male swimwear in Europe, Asia and Australia produce lines of speedo-style suits.