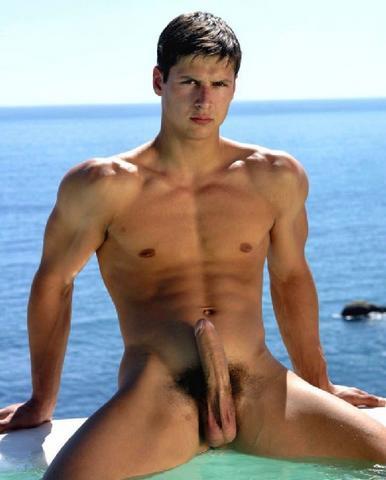 Brandon Manilow is a Czech gay porn star, born in 1983.
He made his first appearance in 2002 at the age of 19 in a Bel Ami DVD called Personal Trainers 5, and has worked exclusively for that studio ever since, becoming one of its most recognised faces and bodies.
Profile
Manilow's sexual preference appears to be to perform as a top for his partners. He has never performed as a bottom in any of his performances. Like many other Bel Ami stars, he has performed in a bareback scene (with Alex Orioli), though this is only available on the studio's official website (subscription required). George Duroy reported, after receiving effusive criticism of the scene, that Manilow and Orioli had been "offscreen" lovers for nearly half a year at the time it was filmed.
According to his profile on the Bel Ami website, he studied at a special sports school which goes some way in explaining his extraordinary physique. Manilow has an excellent body, built like a swimmer with strong broad shoulders and defined pectoral and abdominal muscles, with a slim waist and a compact, muscular bottom. He also sports an impressively large penis.
His profile describes him as "the archetypal top, with a permanent hard-on". The profle also explains that on his arrival at the studio, when he was put through Bel Ami's obligatory sexual training, his trainer, Dano Sulik, became very jealous and said to Bel Ami founder and producer George Duroy "Why do you need me here? He already knows better than me!"
Many fans have noted that his finest performances have been whilst having sex with his good friend and former Bel Ami Czech stud Tommy Hansen.
Videography
* 2002 - Personal Trainers 5
* 2003 - Out at Last 4: Bazaar
* 2004 - Greek Holiday 2: Cruising Mykonos
* 2004 - Enchanted Forest
* 2005 - Lukas in Love - Part 1
* 2005 - Lukas in Love - Part 2
* 2005 - A+
* 2005 - Flings 2
* 2006 - Out in Africa 1
* 2006 - Pillow Talk 1
* 2006 - Pina Colada
Partners
In total, Manilow has appeared in 18 sexual scenes on Bel Ami DVDs, and four documentary scenes. In those scenes, he has had sex with 29 different partners. He also appears in nine other sexual scenes, which are available exclusively on the Bel Ami website - in those scenes he has sex with 19 different men, of which ten are new to him. At the age of 22, Manilow has had a total of 39 different on screen partners in a total of 27 scenes.