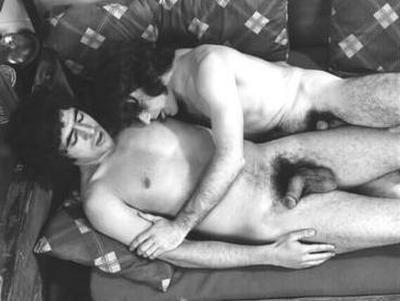 aka Al Cianelli, Jamier Kantor, Jaime Gillis, Jaimie Gillis, Jaimi Gillis, Jamey Gillis, Jamie Grill, Buster Hymen, Jamey, James Kleeman, Ronny Morgan, Barry Gillis.
Jamie Gillis (born Jamey Ira Gurman on April 20, 1943 in New York, New York, USA ) is an American porn star. Jamie Gillis is member of the AVN Hall of Fame.
Jamie Gillis has been one of the leading male performers in porn since the Deep Throat era. While not as famous as John Holmes or Ron Jeremy, he is one of porn's most recognizable, enduring, and influential figures.
Gillis graduated from Columbia University in 1970, and like many of his contemporaries (e.g., Harry Reems, Eric Edwards), was an aspiring actor. Working part time as a taxi driver in 1971, he answered an advertisement in the Village Voice for a nude model. This lead to work performing in loops and soon in feature films.
Gillis quickly established himself as a leading male performer during porn's so-called golden age, which roughly lasted from 1972 to 1983. During this era, porn was shot on film, had reasonable production values, and often had genuine story lines and aspirations to mainstream acceptance. Gillis had a reputation for his acting abilities, as well as his "woodsmanship," and had leading roles in seemingly just about all the major features during this period.
Among the major titles in which he either feature or starred were The Private Afternoons of Pamela Mann, The Opening of Misty Beethoven, The Story of Joanna, Through the Looking Glass, The Ecstacy Girls, Amanda By Night, Dracula Sucks, Roommates, and many others.
After 1983, when porno production moved exclusively to video, his prolific output continued, and he starred in notable features such as New Wave Hookers (1985, with Traci Lords), and innumerable less memorable videos that had no pretensions to anything other than mass-produced sex. In 1989, he performed in the first of John Stagliano's Buttman movies.
In 1989, he created the series On the Prowl, which initiated the "gonzo" genre of porn videos. This genre features amateurs and professionals working together, and was a reaction to the increasingly homogenised product typified by Vivid Entertainment. On the Prowl featured Gillis driving through LA in limousine with a professional porn actress, who would pick up and have sex with a random male member of the public. It was parodied in the movie Boogie Nights with Burt Reynolds in the Gillis role. Gillis was not impressed. Also around the same time, Gillis was co-producer with Ed Powers when they kicked-off the Dirty Debutantes series that has run to many volumes.
In the 1990s and 2000s, Gillis has continued to work in the porno business, although his screen time is usually limited. He rarely stars in mainstream products, but is more often found in fetish lines. This reflects his famously varied appetite for all sorts of sexual practices. In the 1970s, he was very active off-screen as a participant in New York's sexual subculture, often performing in live sex acts. He has long been interested in BDSM activities, and has specialized in these roles throughout his career, usually - but not exclusively - as the aggressor. He is also notable for his habit of verbally abusing his on-screen partners, a trait that seemed to be turning off his mainstream viewers while obviously suiting his sadistic roles.
In addition to mainstream and BDSM roles, Gillis has also starred in spanking movies, gay-bondage movies, and features with titles like Walking Toilet Bowl, where he engages in dominating scat sex with a woman named Carol. While he claims his scenes are always consensual, much of the activity Carol is demanded to do is very unhygienic. This production, along with a 1970s one called Water-Power, where he plays an "enema bandit" who rapes and performs enemas on a number of women, have not been widely viewed but have given Gillis a certain notoriety that he likes to play on, e.g., he often uses toilet bowls and seats as a motif.
Gillis does not appear to have had sex with another male on screen, with the exception of having had oral sex performed on him by men on several occasions (for example, in Gerard Damiano's film The Story of Joanna in which he was pleasured by Zebedy Colt), and fellow-satyr, the late Marc Stevens, claimed to have had sex with Gillis in a 1970s loop. Gillis has never denied he is bisexual.
Gillis is also famous for his romances with fellow porn-stars Serena in the late 1970s, and Amber Lynn in the mid-1980s. He is now something of an elder-statesman in the porno world, widely admired by many of his younger peers as a pioneer from the "Golden Age of Porn" and for his on-screen fearlessness. He has contributed commentaries to DVD re-releases of classics from this period, e.g., Misty Beethoven and Barbara Broadcast, which provide a wealth of information about the era.