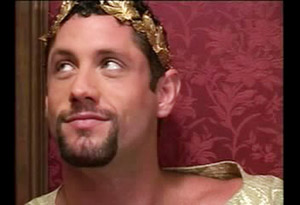 Blake Harper (born October 19, 1968 in Windsor, Ontario, Canada) is the stage name of Peter Tiefenbach[1], a gay porn star. He began working in the porn industry in February 1998. He was a versatile performer and earned a legion of loyal fans with his passionate on-screen work, big smile, and body and facial hair. He is 6 feet tall, weighs 180 pounds, and has dark curly hair. His body became increasingly muscular throughout his career. He has scars on his left hand which he frequently hides when on camera.
In 1999, he won an award for "Best Performer" at the Adult Erotic Gay Video Awards (the "Grabbys"). He also won the 2001 GayVN Award for "Gay Performer of the Year".
In the 2005 documentary Naked Fame, Harper retires from porn and returns to nursing. He did this in order to support his boyfriend, another former porn star Colton Ford, who pursued a career in the dance music industry. There have been reports that Blake and Colton are no longer together, but this is false, according to Colton Ford's Yahoo Group. . [citation needed]