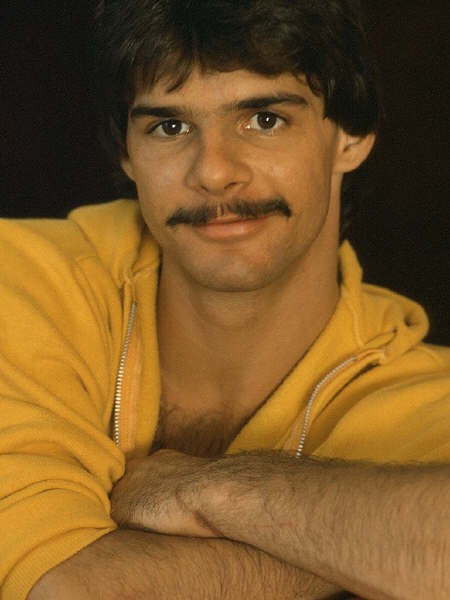 (12 January 1963 Jacksonville, Florida - 8 March 1995 Santa Fe, New Mexico) was an American pornographic actor who appeared in gay pornographic movies.
Born John Nelson Gaines, he died of complications of AIDS at the age of 32.
He was one of the most popular gay adult film stars of the 1980s. When asked in interviews, Jon rarely discussed his life in Florida in much detail, except that it involved quite a bit of "getting into trouble". He had been interested in pornography since finding a Playboy magazine his father owned when he was twelve years old. At some point in his teens, he had read about Jack Deveau, owner of Hand In Hand Films, and sent the producer some dark and fuzzy pictures of himself. Deveau politely turned him down.
Deciding that he was "going places and doing things he'd never done before", John Gaines and his then-lover went to Los Angeles while on summer vacation in 1980, with plans to go back to school in Florida after he had finished having fun. This changed when his lover got a job and the two young men decided to stay. Eventually John picked up a guy cruising who was a model who had an appointment later that day with a photographer. John tagged along to the interview, and was soon on his way as an adult film performer. His start in adult films came with the 1981 film Brothers Should Do It, where he was billed as Jon King, the younger brother of J.W. King. Though the two strongly resembled each other, they were not related. He next appeared in Biker's Liberty, with Kristen Bjorn, Printer's Devils, and These Bases are Loaded, again with J.W. King. Later, he would complain that the man who helped him get started in the industry was a "psycho" who screwed him over for money. In 1982, just as he was at the seeming peak of his popularity, he stole a Corvette on a test drive, robbed a Burger King in Gainesville FL then wrecked the car, and for this spent eleven months in prison. Jon was later reluctant to discuss his time in prison to interviewers, only saying that "it wasn't fun", particularly since his twentieth birthday was spent behind bars.
Making a comeback in 1983, Jon King continued to appear in films and videos throughout the 1980s. Among these were Big Summer Surprise; The Biggest One I Ever Saw (with Lee Ryder and Rick Donovan), Hot Off The Press, Hotel Hell, Inevitable Love, Perfect Summer, Screen Play (again with Lee Ryder), Studhunter, Trick Time (with Tim Kramer), Tyger Tales, Wild Country, and Wild Oats. One of his most memorable scenes was in a hot tub with veteran adult star Kip Noll in 1984's Kip Noll - Superstar.
Around 1989, Jon retired from the business and moved to Atlanta, where he attended culinary school. Apparently his dreams of becoming a chef did not work out. He made a second comeback in the early 1990s, appearing in Fade In, Fade Out, Wild Country, and the sequel These Bases are Loaded 2. His last video, Pumping Iron, came out in 1995. Jon King had been HIV positive for a number of years, and soon after completing Pumping Iron, he became extremely ill with AIDS. He moved to Santa Fe, New Mexico, to live with a friend who looked after his needs. It was here that Jon King died from AIDS complications on 8 March 1995. He was cremated and his ashes mixed and scattered with those of his beloved dog, who had died some years earlier.
Jon King's tight, boyishly muscular body, combined with his thick black hair, deep dark eyes, and a youthful innocence and vulnerability made him very popular with most everyone who saw him. He was often described as a gentle, loving person, who sadly spent his whole life searching for a lasting happiness which he never found. When asked about his popularity, John Gaines commented that being recognized and approached in public as Jon King actually made him uncomfortable, and that he had even quit going to gay bars for that reason. "It's not that I don't appreciate it, " he once said of the admiration he received, "I just want to be myself."
[edit] Videography