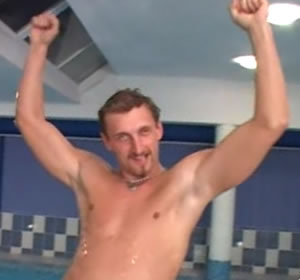 Birthdate: February 16, 1969
Birth location: Vancouver, BC, Canada
Penis size: 9 inches (23 cm)
Height: 6'0" (183cm)
Weight: 185 lbs. (84kg)
Eye color: Blue-Green
Hair color: Brown
Orientation: Heterosexual
Ethnicity: Caucasian
Stage Name(s): Mike Ash
Mark Ashley is a very well-endowed pornographic actor. His penis is amongst the largest of all male porn stars, as attested to by Jewel DeNyle and Bridgette Kerkove. Both women claim that his penis is 9 inches in length. His girth is also very large and rumored to be at least 6 inches at the midshaft.
Ashley is known for his exceptional sexual skill, which allows him to make his female co-stars consistently orgasm. A great deal of Ashley's performances have led his co-stars to experience multiple orgasms through a combination of expert cunnilingus, fingering and thrusting techniques. In addition, he has made many starlets ejaculate, most of whom had never ejaculated before. First-time female ejaculators with Ashley include starlets such as Teagan Presley, Nadia Nyce, Jada Fire, and even Tianna Lynn who has since gone on to feature her copious ejaculation abilities in many other films.
As of the start of 2006, Ashley has starred in over 400 films with nearly 300 different women. His directorial projects include the Anal Authority and Double Play series.