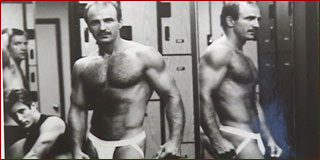 Paul Barresi (born January 12, 1949[1]) is an American film director and media personality who has appeared in and directed pornographic movies under his own name, as well as under Jason Thorpe, Joe Hammer, and Michael Franco. Barresi has also been involved in various capacities in several high-profile celebrity scandals.
Early life and military career
Born in Lynn, Massachusetts, Barresi graduated high school in 1967 and later attended the University of Maryland on a wrestling scholarship[2] but left to enlist in the United States Air Force during the Vietnam War[3]Barresi served at bases in the United States and the Philippines, and he was honorably discharged as a sergeant in 1973 after completing his tour at March Air Force Base. He soon began working at a gym in nearby Riverside, California.[4]
[edit] Work in modeling, theater and film
Barresi with a female model on the December 1978 cover of Hustler.
Barresi with a female model on the December 1978 cover of Hustler.
During filming in Riverside, Barresi worked as a production assistant for Raquel Welch[3] and landed a role as the bartender in The Wild Party, released in 1975. In March 1975, Barresi appeared with a pre-Elvira Cassandra Peterson in a Playgirl pictorial. Barresi was selected by Rip Colt as an early Colt model, and was featured on the cover of the November 1975 Mandate. He was also on the cover of Hustler in December 1978.[5]
November 1975 cover of Mandate magazine featuring Barresi.
November 1975 cover of Mandate magazine featuring Barresi.
The print modeling led to a number of appearances in film as a pornographic model and actor. He appeared in a straight scene with Becky Savage in the 1979 gay classic L.A. Tool & Die, and his first role in a straight feature was in 1980s Co-Ed Fever, where he is credited as Jason Thorpe. He played the minister and performed in a straight scene in the breakthrough 1983 transsexual film Sulka's Wedding, starring Ron Jeremy with the eponymous bride.[6] Barresi appeared in dozens of straight films after that, including Hollywood Confidential 3: Secrets Of Stage Five (1983),[7] Nasty Nurses (1983),[8] Diary Of A Sex Goddess (1983),[9] All American Girls 2: In Heat (1983),[10] Bad Girls 2 (1983),[11] and Miami Spice 2 (1986),[12] among many, many others.[13]
His roles in gay themed film frequently involve him playing a heterosexual authority figure. This occurs without explicit sexual contact with male performers.[14] Classics such as Men of the Midway (1983),[15] Falconhead II (1984),[16] and What the Big Boys Eat (1985)[17] are often listed among the best in the history of the genre. In 1992, Razor Close, a Joe Hammer fetish video, won AVN and Gay Video Guide awards as "Best Specialty Video." Barresi has been nominated for several other AVN Awards, including 8 nominations for the 1998 gay mafia epic which he wrote, directed, and produced, titled GoodFellas/BadFellas, and featuring him in a non-sexual role. Barresi earned a 2003 GayVN Awards nomination for "Best Non-Sex Performance - Gay or Bi" for Long Strokes, noting he got the nod "just for taking my shirt off; if I knew they wanted more, I'd have done more."[18]
Barresi (center) starred in 1983's Backstage Pass.
Barresi (center) starred in 1983's Backstage Pass.
Barresi has continued to write, produce and direct adult films in the heterosexual adult arena, including several popular titles for the gay market, often with military or discipline themes. Adult Video News has said Barresi's directorial efforts make him "undisputedly the king of military-themed videos."[19] In 2005, Barresi wrote, produced and directed a straight feature under the name Michael Franco.
In addition to his work in the adult entertainment industry, Barresi toured in a 1980 summer stock suite of scenes from Neil Simon plays, headlined by Paul Lynde.[20] Barresi told Entertainment Tonight of the difficulty crossing over into mainstream film: "No one really takes a porn actor seriously... and no one really respects a porn actor."[21] Barresi's biggest part in mainstream film was a speaking role as a member of the Sports Connection gym in the 1985 film Perfect, directed by James Bridges and starring John Travolta.
[edit] Involvement with tabloids and celebrity scandals
[edit] John Travolta claim and retraction
According to an investigative report by Mark Ebner, "Barresi moved sharply higher on the Hollywood notoriety scale in 1990 when The National Enquirer ran a front-page story showcasing his relationship with John Travolta. Barresi told the tabloid he'd met Travolta in 1982 when the actor followed him into an L.A. health club."[4] Barresi asked for and received $100,000 from The Enquirer in exchange for the details of his relationship with Travolta.[22] The issue was published on May 8, 1990,[23] but several months later, Barresi retracted his story, saying in a letter to Travolta's attorney that he'd never engaged in gay activity with Travolta.[24] Barresi told The Guide's Jim D'Entremont that he did so with assurances from Travolta's attorney that the matter could be brought "to a soft landing" if he issued a retraction and an apology: "I regretted that initial call to the Enquirer."[22][25]
[edit] Michael Jackson Scandal
After making the rounds on the talk show circuit,[2] Barresi became a self-styled private investigator.[26]
In the wake of 1993 child molestation allegations against Michael Jackson, Barresi attempted to sell tabloid gossip in 1994 after secretly taping two accusers in order to scoop them.[27] Barresi claimed he met and dated Stella LeMarque, then surnamed "Marcroft," before she and husband Philippe married. The LeMarques unexpedely showed up at Barresi's door, two years after being dismissed as workers at Jackson's [Neverland Ranch] and asked him if he would help them broker their story, claiming that they had witnessed Jackson inappropriately touching Macaulay Culkin.[28] When their asking price was $100,000, Barresi said "'the hand was outside the kid's pants' ... [a]s soon as their price went up to $500,000, the hand went inside the pants."[29] Barresi accepted the LeMarque's offer. It took him less than two weeks to secure a $150,000 cash on the table offer from the National Enquirer, however, by then the LeMarque's had already hired Beverly Hills attorney Arnold Kessler to broker their story instead. When Barresi confronted them about it, they told him that Kessler promised he could get them a half a million for their story. Because the LeMarque's went behind his back and cut him out of the deal, the gloves were off. Barresi then moved quickly to sell the LeMarque's story on his own.
Barresi appeared in a PBS Frontline documentary about the incident and described his involvement:
Barresi: So I called the editor at The Globe and I said, 'I have a tape, I'm on the way down town to hand it to the District Attorney.' And his words were, 'let us come with you.' And then I knew I had him. The next thought in my mind was I'm going to ask for $30,000. You always ask for twice as much as what you hope to get. He put me on hold, and within less than a minute he came back and he said 'well, we can't give you thirty, we'll give you ten.' I said 'make if fifteen,' he said 'you have a deal.'
Reporter: Could you see the headlines coming?
Barresi: Oh yeah, sure, and I could see that money coming too.[30]
According to Maureen Orth of Vanity Fair, Barresi had arranged the $15,000 deal with The Globe, but he got impatient and contracted tabloid broker Kevin Smith of Splash News Service, who placed it with The Daily Mirror for $2,400. When the Globe deal came through, Smith couldn't undo the Mirror deal, and the Mirror scoop kept Barresi from getting paid by The Globe. Smith claims Barresi came to his office "with a gun and a huge bodyguard," and Smith arranged for Barresi to get $1,000.[31] In the end, the District Attorney decided that the stories of the LeMarques and that of the Quindoys (who also sold their story to the tabloids) could not be used. Barresi ended up making $30,000 in total on the Jackson story.[30]
[edit] Eddie Murphy Scandal
Following a 1997 incident involving Eddie Murphy and a transgender prostitute, Barresi attempted to collect sworn statements from other sex workers alleging encounters with Murphy. Ebner notes some received as much as $15,000: "[Barresi] offered them payoffs to reverse their stories and coached them to give false testimony. He personally squired two of them to [Murphy lawyer Marty] Singer's law office, where they declared under penalty of perjury that they'd lied to the tabs about having sex with Murphy."[4] With the exception of the person with whom Murphy was found, Barresi said, "In less than 10 days, I got them all to sign sworn, videotaped depositions, stating it wasn't Murphy himself, but rather a look-alike, who they'd encountered.".[32]
[edit] Anthony Pellicano's Enforcer
Barresi began working with private investigator Anthony Pellicano around the time of the 1994 Jackson incident. According to Barresi, Pellicano would purchase tabloid reporters' celebrity gossip before it became public. He then would offer to do damage control for $25,000 or more. "He says these people pursue him to hire him, when in fact, he pursues them", said Barresi.[33] Barresi says he also assisted Pellicano in a 1994 investigation of paternity claims involving Barry Bonds and a porn actress.[34] Barresi told ABC News about his work with Pellicano, "[w]henever there was a damaging story involving a celebrity client that involved sex, then I was involved." Barresi said that Pellicano hired him to "get dirt on" Pellicano's former client Sylvester Stallone. The actor's phone was allegedly bugged by Pellicano during a lawsuit over Planet Hollywood.[35] Barresi told Vanity Fair that Pellicano had a vendetta against Stallone after the two had a falling-out: "Pellicano hired me on two occasions to find dirt on Stallone. The first time was in 1995 or '96 and then again in late 2001.".[36] Barresi told LA Weekly that Pellicano hired him when Arnold Schwarzenegger was considering running for governor in 2001, "to look for information that may be of good use to Schwarzenegger's detractors", so Schwartzenegger's team could prepare for any damage control.[37] Barresi submitted 27 pages but could not say who requested the probe.[38]
The New York Daily News reported that in November 2002, Barresi arranged for a porn actor to meet with him and Pellicano to discuss selling his story about his alleged London sexual encounter with Tom Cruise.[39] Barresi later felt the story was not credible, but Pellicano informed Cruise's lawyer, who warned the actor in a letter to drop the matter. Barresi received $5,000 for his efforts after the actor fled to Europe on Barresi's advice.[33] Barresi is also in possession of illegally taped phone conversations made by Jim Mitteager, the Los Angeles bureau chief of tabloid The Globe. Mitteager died of throat cancer in 1997, and he bequeathed the tapes to Barresi.[40] Barresi told reporter Drew Griffin "[Mitteager] indicated to the person who gave them to me that I would know what to do with them", and Barresi arranged for KCBS-TV to air them in a multi-part series in 2004.[41] The tapes aired by KCBS include a conversation where Pellicano offers Mitteager a story about his new client Jean-Claude Van Damme in return for Mitteager's dropping one about client Whoopi Goldberg.[42]
In 1999, Barresi says he was assigned by Pellicano to investigate a model who named Chris Rock in a paternity suit.[43]
Barresi also says he was hired to look into the sexual orientation of Gavin de Becker, a successful security consultant of whom Pellicano was reportedly jealous.[44]
He has been sought out for comment by the press as the Pellicano case has unfolded. Barresi told the New York Times he has been aiding the defense team for entertainment lawyer Bertram Fields, a long-term client of Pellicano's who is now under investigation, in hopes of a later payday.[33] Barresi also reportedly worked with attorneys for producer Jules Nasso in 2006. As part of a lawsuit, they seek Pellicano's wiretapped calls for any evidence that Steven Seagal ordered Pellicano to terrorize former Variety reporter Anita Busch.[45] In May 2006, Barresi turned over tapes from Mitteager with transcriptions to the FBI.[46]