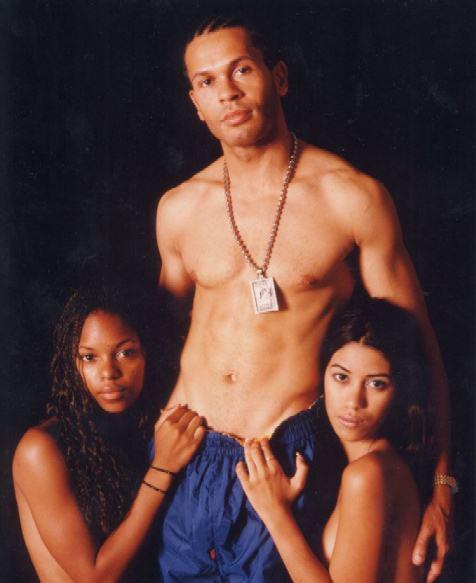 Jake Steed (born Jason Anyiam Okezie on August 27, 1970) is an American male porn star, who appeared in Interracial pornography.
Stage Name(s): Jake Snead / Peter Strange / Max Stryde / Tim Wakefield / Tim Whitfield / Tim Woodfield / Rick Wynn
Biography
Jake Steed is easily recognizable by his exceptionally large penis which is curved sideways, due to Peyronie's disease. The size of his penis is a reported 8.5 inches in length by 6.5 inches in circumference (i.e. girth) at the thickest part. Steed is also known for his prodigious ejaculations, which at times come close to rivaling Peter North, particularly in terms of distance. The majority of his videos feature Steed ejaculating on his female partner's face, in an act commonly referred to as a 'facial'. According to a scene with Leanni Lei in Pick Up Lines #45, Steed's semen is among the most pleasant-tasting in the porn industry. Another trademark of Steed's are his loud groans and grunts both in anticipation of, and accompanying, many of his climaxes.
Jake Steed is well-known for his works such as the Little White Chicks, Big Black Monster Dicks series. He is the first man who starred in the interracial porn site Blacks on Blondes" (a.k.a) "dogfart. He's had a string of successful movie lines like Chillin' with Freaks, Whoes & Flows & Little White Chicks... Big Black Monster Dicks. Jake worked with Ed Powers on Dirty Debutantes & Exotica Erotica, in which aspiring adult-actresses would perform, often for the first time, before a camera. Ed Powers has used scenes from said movies in Affirmative Action, a compilation centered around Jake Steed.
Jake Steed has also appeared on the album 2001 by Dr. Dre. He appeared on Pause 4 Porno. The track consists of the audio of Steed having sex with two women. He has a rap CD out but failed to garner the same success with music as he did with his porno. For a few years, Steed allowed visitors to his web site to download MP3 audio files of his songs, including "Spanish Fly Theme" and "Spliff Star Jake".
On June 7, 2000, he was arrested on charges of corporal injury to a spouse and false imprisonment. Bail was set at $500,000, which was posted by a bonding company after Steed paid the 10% fee. He never showed up for his trial date in 2001.