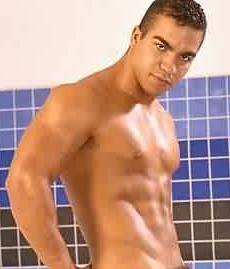 Birthdate: 12 February 1979
Birth location: Brazil
Height: 5'8" (1,73 m)
Weight: 176 lbs. (80 kg)
Eye color: brown
Hair color: black
Orientation: bisexual
Ethnicity: Brazilian
Julio Vidal is a Brazilian porn star and director who has had sex in pornographic movies with men, women, and transsexuals. When questioned as to his preference, Julio replied, "I prefer women, but men also attract me. I try to perform the best I can, and I do it thinking about the viewer's pleasure, not about my own." [1] In films with other men, he usually performs in the top role, but he has also bottomed. Asked about the experience, Julio commented, "[t]o be honest, I didn't enjoy bottoming...at all. It wasn't a very good experience for me...." [1] In this, he can be said to be one of the male stars who do 'gay-for-pay'.
According to his biography at Marcostudio, Julio was introduced to the industry by another pornstar, his friend Alex Villaboas. [2] Julio says he had sex for the first time with another man in the film Fors Armadas, for Frenesi Filmes. [1] After his start in gay films, Julio went on to appear in straight films and to appear in and direct several "tranny" (transsexual) films. For those films, he uses the name Juliano Ferraz. [1]
Julio has appeared in several films for Marcostudio and says that working at Marcostudio was great and the director, Max, was "very professional". [1] He has also appeared in films by Kristen Bjorn, and says that by comparison, working with Kristen "is more tiring, but the result is better" and that he doesn't "mind the extra work". [1]
One notable achievement in Julio's career to date is his eponymous Julio's Desires video, produced by Marcostudio in 2000.
Julio has worked in the past as an escort, go-go boy, and model, and has performed at private shows and parties. [2] Currently residing in São Paulo, he is the father of a son, no longer works as an escort, and is now devoting his time to his films and making his living from them. [1] [3] Julio's hobbies include soccer, bodybuilding, guitar playing, karaoke, and capoeira (a Brazilian martial art). [2]