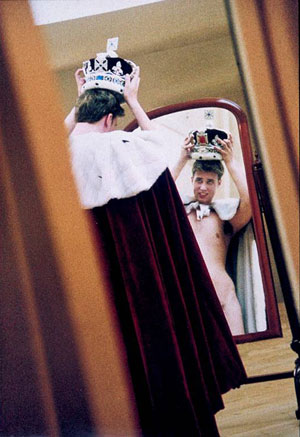 http://www.alisonjackson.com/
Alison Jackson (born 1960) is a English photographer. She hit the headlines in 2000 with her lookalike photographs of celebrities in compromising positions, and went on to win a BAFTA for BBC 2's series Double Take
Contents
[hide]
* 1 Biography
* 2 Personal life
[edit] Biography
A BA (Hons) Fine Art Sculpture from the Chelsea College of Art as an adult student, was followed by an MA Fine Art Photography from The Royal College of Art, London.
Jackson became notorious in Britain during 1999 for producing black-and-white photographs that apparently showed Princess Diana and Dodi Al-Fayed with a mixed-race love child. Since the couple died without producing offspring the photographs were clearly impossible. They appeared convincing because Jackson had employed look-alike models to pose as Di and Dodi. The photos, part of her graduation series entitled Mental Images, were technically assured, beautifully composed and lit in a manner reminiscent of Old Master paintings of the Holy Family. Jackson was attracted to the subject of Diana because she was a national icon at the time of her death and by the fact that millions mourned her even though the majority only knew her through mass media images. It was also clear to Jackson that people fantasised about Diana's love life.
Jackson was also the artist behind BBC Two's series Double Take, for which she won a BAFTA [1]. Her next targets are rumoured to include George W Bush and: "Tony Blair. Like Sven, he's on his way out."
[edit] Personal life
Her father was a wealthy eccentric who's life as owner of his family's Georgian estate near Portsmouth was shattered in 1972 when he received a government purchase order to run the new M23 through his parkland. "It devastated him. He was so upset that he arranged to have the house burned down" The Jackson family - Alison has an older brother - moved to an equally impressive Gloucestershire mansion, originally an 11th-century Gilbertine monastery, with its own chapel and network of secret tunnels.
Her childhood was spent largely at Croft House, a "miserable" Sussex boarding school "for complete dunces, where it was all about needlework and dressage". Sarah Ferguson was a pupil. Her eccecentric father died when she was a teenager.
Jackson is single and childless. She has a "relatively long-term" boyfriend called Anthony, a film producer. She lives in one of Chelsea's most opulent streets, in a house which used to be Turner's art studio. Jackson bought it as a derelict shell, and turned it into one big, sparse, starkly minimalist space decorated with a white chaise longue, a shelf of rare books, a Bang & Olufsen music system and the a grand piano. Guests who come to her dinner parties apparently include Lord Brocket and Notting Hill socialite Melissa Chassay