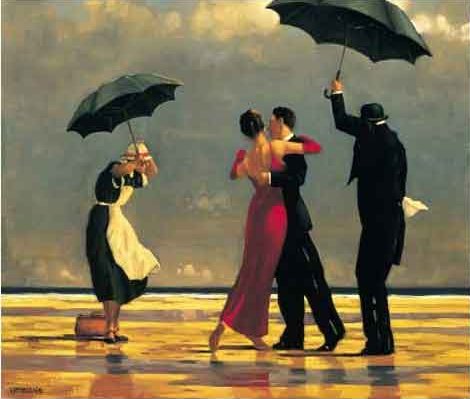 Jack Vettriano (born 17 November 1951 Fife) is a Scottish painter. Originally Jack Hoggan, he grew up in the industrial seaside town of Methil, Fife. He left school at 16 and became an apprentice mining engineer, but later took up painting as a hobby in his twenties. His earliest paintings were copies or pastiches of impressionist paintings (his first painting was a copy of Monet's Poppy Fields).
Vettriano's breakthrough year was 1988, when he felt ready to display his paintings in public and submitted two canvases for the Royal Scottish Academy annual show. Both paintings sold on the first day and Vettriano was approached by several galleries who wanted to sell his other work. The success and attention contributed to the breakdown of his first marriage and he moved to Edinburgh, changing his name to Vettriano, his mother's maiden name.
Further successful exhibitions followed in Edinburgh, London, Hong Kong, Johannesburg, and New York. His paintings are reminiscent of the film noir genre, often with romantic or even pornographic themes.
Although his work is generally dismissed by art critics as being vulgar and devoid of imagination, he is one of the most commercially successful living artists. His original paintings now regularly fetch six figure prices, but he is thought to make more money from the sale of reproductions. According to The Guardian, he earns £500,000 a year in print royalties. Each year a new set of limited edition prints are published, and his most popular work, The Singing Butler, sells more posters and postcards than any other painting in the UK. On 21 April 2004 the original canvas of The Singing Butler sold at auction for £744,500 — in stark contrast to 1992 when Vettriano painted the picture and submitted it for inclusion in the Royal Academy summer show, only to be rejected.
In October 2005, it was 'discovered'that figures in some of Vettriano's paintings, including The Singing Butler, were based on figures from an artists' reference manual, The Illustrator's Figure Reference Manual.[1] This revelation did little to tarnish Vettriano's reputation,however, as he has never denied being self-taught. In his early years he didn't have the financial resources to hire models. His talent lies in placing his figures in an unusual narrative context.
Vettriano has studios in Scotland and London. He is represented by the Portland Gallery, London and includes Jack Nicholson and Terence Conran amongst his collectors. In 2003 he was awarded the OBE.
[edit] See also