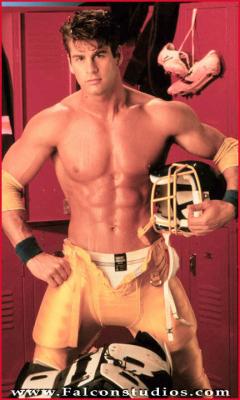 August 10, 1966
Ryan Idol is an American male pornographic actor (porn star) of the 1990s who performed in pornographic movies catering mainly to gay male audiences. He was born Mark Anthony Benet in Worcester, Massachusetts on 10 August 1966. He has French, Irish, and Native American ancestry.
Generally considered a "gay for pay" performer who pursued heterosexual relationships off the set, Ryan Idol created something of a sensation in two of his last videos; in Idol Thoughts he performed fellatio on co-star Tom Katt, and in Idol Country, he performed fellatio and anilingus on co-star Steve Marks. At the 1995 AVN Awards he won the Best Actor-Gay Video Award for his performance in Idol Country. Advance publicity for his last video, Idol in the Sky, released in 1996, promised that Idol, who until then had been a "top", would "bottom" in anal sex for the first time on screen. This did not come to pass, and the video was neither a great critical nor financial success. Idol soon retired from the industry, although he continued to work as a male prostitute and dancer/stripper, and also acted on stage in the play, Making Porn. In February 1989, he appeared as the "Man of the Month" centerfold in Playgirl under the name Marc Anthony Donais.
On 20 March 1998, Ryan Idol was critically injured after falling from a window of his girlfriend's fourth floor apartment in New York City. His pelvis was broken and he suffered head injuries in the fall. It was reported that he was either drunk or on drugs. While Idol has admitted to having had problems with drugs in the past, he claims to have no recollection of his accident. Ryan Idol continues to make occasional public appearances, as a dancer and stage actor and also at gay political and AIDS charity fundraisers. He still talks on occasion of the possibility of making a comeback in gay porn videos.