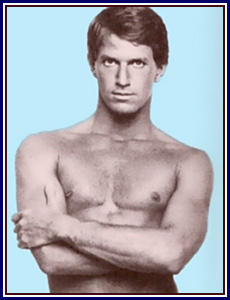 Casey Donovan, also known as John Calvin "Cal" Culver (2 November 1943 - 10 August 1987) was an American male pornographic actor (porn star) of the 1970s and 1980s, appearing primarily in adult films and videos catering to gay male audiences. Casey's appeal came largely from his natural good looks, his boy-next-door persona, and especially for his great enthusiasm for sex, both on and off the set. In many ways, he was the epitome of the free love and hedonism of the 1970s and early 80s.
Casey Donovan was born John Calvin Culver on 2 November 1943, in East Bloomfield, New York. After working for a time as a teacher at the private Ethical Culture Fieldston School on New York City's Central Park West, he began acting in summer stock theater as Cal Culver. He also made money on the side as a male escort. By the late 1960s and early 1970s, he was appearing in plays like Captain Brassbound's Conversion with Ingrid Bergman, The Merchant of Venice with Rosemary Harris, and an off-Broadway gay-themed play, Circle in the Water. Cal was also modeling, appearing in numerous ads and magazines.
In 1971, Cal played a supporting role in a low budget sexploitation thriller film, Ginger. This in turn led to an offer to appear in Casey, a gay pornographic film in which Cal played the title role, a gay man who is visited by his fairy godmother Wanda (Cal playing a dual role in drag), and is granted a series of wishes which make him sexually irresistible to other men. Cal later took the character's name, Casey, and that of popular singer Donovan to create the pseudonym under which he would appear in all his other erotic roles.
Cal first appeared as Casey Donovan in Boys in the Sand, directed by Wakefield Poole, in 1972. The film was an instant success, with even big name mainstream celebrities going to the premiere. Today the film is considered one of the great classics of male erotic cinema, although stricter obscenity guidelines in some states forced a change of the title to Men in the Sand. Despite the success and celebrity the film gained for him, Cal/Casey soon realized that the only real doors it opened for him professionally was as a star of still more gay erotic films. These included the bisexual porn film Score (1972), The Back Row, with George Payne, LA Tool & Die, with Bob Blount and Richard Locke, The Other Side of Aspen, with Al Parker and Dick Fisk, Boys in the Sand II, and Inevitable Love, with Jon King and Jamie Wingo. He also featured in a number of heterosexual porn films, notably The Opening of Misty Beethoven (1975).
Outside his adult film career, Casey had a successful off-Broadway run in the play Tubstrip, written and directed by Jerry Douglas, and was involved in a close relationship with former film and television star and author Tom Tryon. Casey also tried, unsuccessfully, to run a bed and breakfast, Casa Donovan, in Key West.
By 1985, Casey's health had begun to deteriorate, as he had contracted HIV. He worked with many HIV/AIDS charities and counseled his fans to practice safe sex and get tested for HIV. He performed in a safe sex film for the Gay Men's Health Crisis, although he himself lived in denial that he had the syndrome, even as his health got worse. Cal Culver, aka Casey Donovan, died from an AIDS-related pulmonary infection in Inverness, Florida on 10 August 1987. A biography of Cal Culver's life, Boy in the Sand: Casey Donovan, All-American Sex Star, by Roger Edmonson, was published in 1998.