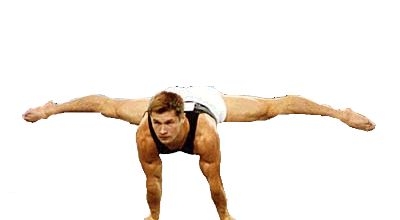 Aleksei Yurievich Nemov (Russian: Алексей Юрьевич Немов; born May 28, 1976, Barashevo) is a famous gymnast from Russia. He is often called by many sports commentators and fans Sexy Aleksei. He often poses and waves to crowds during competition. Nemov's sense of showmanship and his routines packed full of exciting skills have won him many fans. He currently lives in his hometown of Tolyatti with his wife Galina, and his son Aleksei.
[edit] Early life
Aleksei grew up in Togliatti, a small town on the Volga River. His father left him and his mother when Aleksei was just a baby, and Aleksei has never seen him since. He started gymnastics at age five.
[edit] Gymnastics career
As a 16-year-old he made his debut at the 1993 World Championships, placing fifth on floor. The following year, he stamped himself as a true all-around contender, winning his qualifying session at the Worlds. He later faltered and dropped to 12th overall. He won his first major all-around title at the Goodwill Games in Saint Petersburg, beating his 2nd-place teammate and World Silver Medalist Aleksei Voropaev by over one point. Much like Lilia Podkopayeva, fans and analysts marveled at Aleksei for embodying all the ideal qualities of a world-class gymnast: complex acrobatics, elegance, and style. It was clear to everyone that he would be an imposing figure in world competition.
Despite promising international success, in 1995 he gained a reputation for having variable performance.
Then 19, in the all-around of the European Championships, he was the leader in five events and had put up the high score on three events. When he came to high bar, he only needed an 8.75 to win the title. He missed his two major release moves, crashed into the bar on another release move, botched a required element, and stopped in the middle of his routine. He scored a 7.35 and dropped to ninth overall.
A few months later, Aleksei had another showing at the World Championships in Sabae, Japan. The entire Russian team, had a disastrous showing. They were in an astounding 11th place after the 1st round; and Aleksei was in 96th all-around. The team rebounded in the optionals to finish 4th overall (still a disappointment since it marked the first time in decades that the Russians failed to medal in the team competition), while Aleksei put up the highest optional score of all the competitors. His compulsory round prevented him from qualifying to the all-around finals.
Aleksei finally seemed to realize his vast potential at the 1996 Summer Olympics in Atlanta, Georgia, winning six medals (two gold, one silver, and three bronze). He performed solidly in the all-around, battling World Champion Li Xiaoshuang every step of the way. However, he ruined his chances for gold when his concentration failed him once again, and he botched his middle tumbling run on the final event. He finished a narrow second.
Aleksei's considerable Olympic success and newfound worldwide fame seemed for naught, however, as he time after time baffled audiences with his uninspired, inconsistent performances in major international competition. He continually battled recurring shoulder injuries, boredom, and poor fitness level. He failed to win a major all-around title for nearly four years, and many doubted his chances for Olympic gold at the Sydney Olympics. However, he surprised everyone when he arrived at the Olympics doing the best gymnastics of his career, and once again took home six medals. This time, he won the all-around title, finally winning his first major championship of his career.
Although never regaining his incredible form of 2000, Aleksei competed through to the 2004 Athens Olympics, mainly as an anchor for the fledgling Russian team. Though unable to defend his all-around title, Aleksei's performances brought the house down in Athens, and placed him in the middle of the largest judging controversy in the history of the sport. After performing the most difficult and dazzling routine of high bar finals, marred only by a step on the landing of his dismount, the judges posted a 9.725, placing him in third with several athletes to compete. The Greek crowd erupted in an endless chorus of boos and cheers, interrupting the competition for nearly 15 minutes. The judges felt the pressure of the crowd, reevaluated, and increased his score to a 9.762, still only placing him in third. The crowd continued their raucous protest, which only began to subside after Aleksei stepped up to the podium and pleaded with his supporters to quiet down for the sake of the other athletes. This scandal was finally credited as the last straw after several judging controversies in the competition, and fueled a massive reconstruction of the scoring system which was implemented in 2006. Aleksei took the disappointment in stride and rarely criticised the judges nor the situation. The Russian Olympic Committee later awarded Aleksei $40,000 in recognition of his class and character, and he retired from gymnastics soon after.