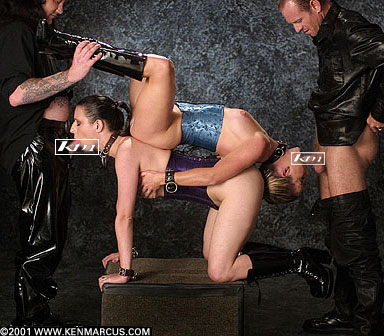 PROFESSIONAL PHOTOGRAPHY
Ken Marcus reveived his business license and began his professional career at age 17 while sharing a studio with special-effects photographer Don Carroll.
One year later in 1965 he opened his studio on Melrose Avenue in Hollywood, Ca. and began shooting for advertising, editorial and entertainment clients.
In early 1972, Ken was selected to be the first American photographer for the British publication Penthouse Magazine as they entered the American market. His early pictorials consisted of fantasy layouts of erotic themes involving couples and models photographed through heavy, soft focus diffusion.
As Penthouse circulation broke all publishing records attracting much media coverage, prominent large Phot-Credits rapidly transformed the heretofore unkown name 'Ken Marcus' into America's most well known glamour photographers.
In 1974, Ken joined Playboy and became their West Coast Contributing Photographer shooiting centerfolds, editorials and calendars for 11 years, twice receiving their prestigious 'Photographer of the Year Award'.
After leaving Playboy, Ken returned to shooting for Penthouse and also spent 10 years as the cover photographer for Muscle & Fitness Magazine. For several years Ken waa producing expensive glamour calendars for corporate clients (NAPA , SnapOn Tools, Sumitomo Life Insurance Co., etc).
For 25 years, Ken Marcus ruled the roost of American erotic photographers. In addition to the hundreds of editorials that earned him international fame and recognition, he has traveled throughout the world exhibiting his erotic photographs in galleries, museums and seminar venues.
Ken now is 'officially retired' from the commercial world of photography and is involved exclusively with producing images for his website. Shooting erotica 2-3 days a week is his idea of' 'retirement'.