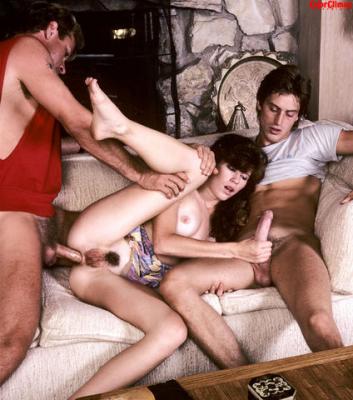 Adult-film career
Marc Wallice (born Marc Stephen Goldberg October 3, 1959)[3] was an American pornographic actor in adult films. He admitted he was a user of intravenous drugs[5] and tested HIV positive in 1998,[1] sending shockwaves throughout the porn industry. He left the industry but later returned to the pornography industry as a director, editor, and writer.[2][1]
Wallice got into the porn industry in 1982 at the age of 22.[1] He was working as a grocery store bagger when he answered an ad for the World Modeling Agency. He started out with non-speaking roles, but worked his way up to become a very active actor, doing more than 1,300 heterosexual porn movies. He is a blond, semi-buff man, with a slightly curved and circumcised penis. He has appeared in many anal-oriented films, including Erica Boyer's educational film "The Fine Art of Anal Sex/Anal Intercourse," in which he demonstrates basic anal-sex techniques. This film has been largely superseded by later films by such educators as Nina Hartley and Tristan Taormino.
He appeared as Don Weber in his only commercially-available gay film, A Matter of Size (Huge Video, 1983, Matt Sterling, director)[2][6][7]
Wallice also has a dildo modeled after his penis, "Marc Wallice's Realistic Cock" [8
Name(s): Don Webber, Jay B. David, Marc Gold, Marc Goldberg, Marc Wallace, Marc Wallace, Marc Wallice, Mark Wallace, Mark Wallice, Marc Goldberg [1][2]
[edit] HIV
Just as he was starting to get behind the camera to direct his own movies, it was announced by Sharon Mitchell on April 30, 1998 that he was HIV-positive.[1] His career suddenly ended, with rumors and speculation that he also infected several other actresses, including Brooke Ashley, Tricia Devereaux, Caroline, Nina Cherry, Jordan McKnight, Barbara Doll, and Kimberly Jade.[9][5]