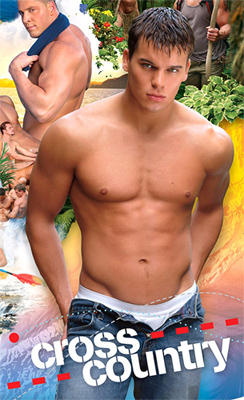 Roman Heart is an American gay pornographic actor (porn star) who makes pornographic movies.
Roman started his career in gay porn at the age of eighteen at Studio 2000. He used the stage name Linc Madison for this first performance. After his debut in the movie Flesh, he signed a contract as an exclusive for the large gay porn studio Falcon Entertainment. Since then, all his performances have been in movies for this studio and its "Jocks" division.
Heart often appears as the bottom in sex scenes. He has bottomed, among others, for gay porn star Brent Everett (in the Falcon/Jocks production Super Soaked). Heart is one of the most popular newcomers in gay porn in 2005, mainly due to his perfectly smooth, tanned and muscular body (classified as a typical jock), and his classic facial features. In addition, he is very vocal (and thus appears very eager) when having anal sex.
His performances for Falcon and strong support by famous gay porn director Chi Chi LaRue have earned him a lot of attention and high-profile roles. Heart is the cover model in the big budget 2005 production Cross Country, also for Falcon Studios. In addition, he was featured as the cover model in the July 2005 issue of Freshmen magazine where he was recently elected as Freshman of the Year for 2005.
Heart lives in Los Angeles, California[1] and dated Benjamin Bradley for over a year.
He has a Celtic Cross tattoo on his upper back.