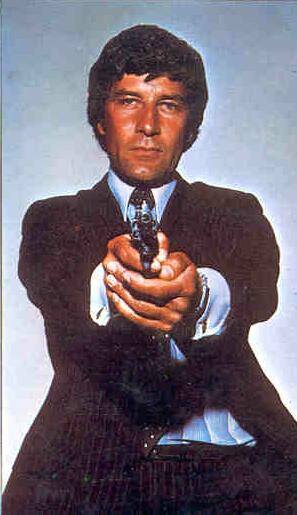 Alan Leonard Hunt (7 February 1942 – 14 March 2007) was an English actor, known as Gareth Hunt, best remembered for playing the footman Frederick Norton in Upstairs, Downstairs and Mike Gambit in The New Avengers.
Early life
Alan Leonard Hunt was born in Battersea, London in 1942; he was the nephew of actress Martita Hunt.[1]His father was killed in the Second World War when Hunt was two years old, and he was brought up by his mother Doris and stepfather.[2] At the age of 15, he joined the Merchant Navy. After six years, he jumped ship in New Zealand and worked in a car plant for a year before he was caught and served three months in a military prison.[2][3] Hunt was then deported back to Britain and while doing a BBC design course, he had held a variety of jobs, including being a stagehand, road digger, butchers assistant and door-to-door salesman.[2] Having had an interest in acting since his early years, he subsquently trained at the Webber Douglas Academy of Dramatic Art.[1] Following that, Hunt did rep across the United Kingdom and joined the Royal Shakespeare Company and National Theatre in the early 1970s. Among the many stage productions he appeared in were Twelfth Night, Oh! What a Lovely War and West Side Story.[1]
Hunt started his television career in 1972, playing a policeman in For the Love of Ada. The same year Hunt appeared in A Family at War and The Organisation. In 1974, he had a role in the Doctor Who story Planet of the Spiders and Bless This House.
[edit] Television fame
In 1974, Gareth Hunt appeared in the Upstairs, Downstairs episode Missing Believed Killed as Trooper Norton, batman to James Bellamy.[4] The character was a minor one; however, his performance led producers John Hawkesworth and Alfred Shaughnessy to ask him to come back as a regular for the fifth series in 1975.[4]
Hunt continued playing Frederick Norton, who had by now become the footman, until the eleventh episode of the fifth series, Alberto. In 1975, Hunt made appearances in The Hanged Man, Softly, Softly and Space: 1999.
In 1976, the year after leaving Upstairs Downstairs, Hunt starred alongside Joanna Lumley and Patrick McNee in The New Avengers. The show's producers said he was cast because of his part in Upstairs, Downstairs.[4] Hunt played secret agent Mike Gambit and starred in the show until its end after two series in 1977. After that in the late 1970s and 1980s, Hunt made appearances in Sunday Night Thriller, Minder and Hammer House of Mystery and Suspense. In 1984 he appeared in the film Bloodbath at the House of Death and in 1988 he played many parts in the Pet Shop Boys' film It Couldn't Happen Here.
Hunt starred in a series of television adverts for the coffee brand Nescafé in the 1980s,[4] with a trademark move: to shake his clenched hand then open it, to reveal coffee beans, and smell the aroma.[5]
At the height of his fame, his name, usually shortened to just "Gareth", was used as an expression in rhyming slang.[6][7][8][9]
[edit] Later years
Gareth Hunt continued to have minor roles in many television programmes in the 1990s and 2000s, with appearances in The New Adventures of Robin Hood, Harry and the Wrinklies, Absolute Power (as himself), New Tricks and Doctors. From 1992 to 1993 Hunt had a leading role in the sitcom Side by Side,[4] and had a main role in the short-lived soap opera Night and Day in 2001. In 1997, he appeared in the film Fierce Creatures and in 2001 played Ritchie Stringer, a crime boss who was an unlikely suspect in the shooting of Phil Mitchell, in EastEnders.[10] For a brief time he abandoned acting and started a project called Interactive Casting Universal, a computer system that presented actors' details and showreels.[2]
Hunt suffered a heart attack in December 1999 and withdrew from a pantomime in Malvern.[2] In July 2002 he collapsed while performing on stage in Bournemouth.[11] Gareth Hunt died of pancreatic cancer, from which he had suffered for two years,[3] on 14 March 2007, at the age of 65, at his home in Redhill, Surrey.[10][5] He had married three times and had a son by each marriage.[2]
[edit] References