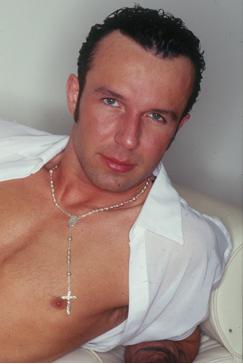 Chad Hunt (born in Wadsworth, Ohio, United States, 1973) is a gay porn star who performs in pornographic movies. He has appeared six times on the cover of Inches Magazine, a gay porn magazine that focuses on men with extra-large penises. He has also appeared in many other porn industry magazines, television shows, books, and was a model for famed NYC photographer Timothy Greenfield-Sanders in an art gallery exhibit. Many of his feature films are also large penis-oriented, with titles such as Giant and Monster Meat. [1]
He is 5'10" tall, weighs 160 pounds (12 stone), and is best known for his exceptionally huge penis, which reportedly measures 11 inches long and 7 inches in circumference. He is widely reported as and promoted as having the largest and thickest natural penis of any current male porn star, gay or straight, and is speculated by some to be either equally as large or even larger than the notorious porn star John Holmes (presumably depending on whether Holmes' penis was actually the 10 inches he himself claimed in Rolling Stone or the much-mooted 12 inches publicised by porn studios).
In 2006 Hunt's size was challenged by newcomer Ben Andrews. Ben reportedly has an 11 inches long and 9 inches in circumference sized penis. Hunt and Andrews compared penises in the offices of director Michael Lucas in May 2006 according to Lucas' blog site, LucasBlog.com, Hunt had the longer penis while Andrews had a thicker penis at the base. Hunt and Andrews have worked together on two Lucas Entertainment films (Encounters 3: Flash Point and The Bigger The Better).
Hunt always performs as a "top", that is, the insertive partner in male-male intercourse. In recent movies he has appeared tattooed and goateed, adding to his butch, aggressive "top" image. [1]
Born to Croatian-American parents, Chad Hunt was married to his high school sweetheart for four years and got divorced in 1996. From his marriage Hunt had sired one male child in 1994. His film career began in 2000, and he continued working until 2004 when he took a one-year hiatus. In 2005, he signed a two-year contract with Lucas Entertainment to appear in that company's videos, and to direct a movie in 2007. However, following a dispute with Lucas over what Hunt considered to be a public embarrassment, the contract was cancelled. In the summer of 2006, Hunt and Lucas reconciled, and Hunt has worked on several more Lucas Entertainment films.
Hunt's penis was used as the model for a Falcon Studios Supercock Replica dildo that bears his name. [1]
In 2006 Hunt graduated from Hunter College, located in New York City, as a Social Studies/Education major and plans on teaching high school history as well as continuing his work in pornographic films as both an actor and director. Also in this year Hunt began work on his own production company named after the Greek, male-fertility God, Priapus. Priapus Inc. is slated to begin production sometime in 2007. Priapus is a fitting name for Hunt's company considering that this male deity was known for his extra large genitalia as well as his exceptional use of it.